Issue #98 / Jan 2009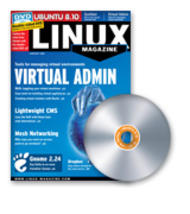 DVD: Ubuntu 8.10
A Perl script implements a singing, musical Internet
Instead of just monitoring incoming requests in your web server's logfile, a sound server makes them audible and lets you listen to the tune of users surfing the site.
Getting around with the Avant Window Navigator
The Avant Window Navigator brings a Mac OS look and feel to your Linux desktop. With just a couple of steps, you can add a taste of Apple to your Linux user experience. We show you how to set up this breezy panel alternative.
Microblogging with Gwibber
Individually updating all your accounts on multiple social networks or microblogging services can be a hassle. If you want to streamline your social networking, get Gwibber.
New features in GIMP 2.6
After more than eight years of planning, GIMP 2.6 finally includes the Generic Graphics Library.
Online backup and synchronization
Have you ever dreamed of backing up your laptop data on the Internet and synchronizing multiple computers independently of the operating system? The Dropbox online service grants this wish with just a couple of mouse clicks.
Business intelligence with OpenOffice.org Base
Learn how to analyze your business data with the help of OpenOffice.org Base and the Sun Report Builder extension.
Making the case for Free software
The open source community doesn't have a fleet of attorneys and PR consultants. When it is time to make the case for free software, you might just have to be the advocate.
All that and an inflatable Tux
New venue for Ontario Linux Fest 2008 puts the community into the conference.
An up-to-date overview of free software and its makers
The look and feel of Mac OS X appeals to many free software supporters. Mac4Lin icon and sound themes, in addition to the new Avant Window Navigator Dock clone, emulate this look. Also, the development team behind pdfsam offers a model for remunerating programmers of free software.
Visit Our Shop
Direct Download
Tag Cloud