Issue #99 / Feb 2009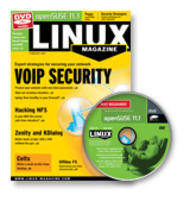 DVD: openSUSE 11.1
COVER STORY: Hping
Security testing with hping
Don't let intruders crash your dance. We'll show you how to test your firewalls and intrusion detection systems with hping.
Lightweight Productivity with Puppy Linux
If you are looking for tools that are fast and don't take up too many resources, you ought to take a closer look at what Puppy Linux has to offer.
Minix 3 and the microkernel experience
Minix is often viewed as the spiritual predecessor of Linux, but these two Unix cousins could never agree on the kernel design. Now a new Minix with a BSD-style free license is poised to attract a new generation of users.
Adding graphic elements to your scripts with Zenity and KDialog
Zenity and KDialog let you integrate your scripts with the native KDE or Gnome environment.
Staying in sync with a network filesystem
Tired of copying and recopying files from your laptop to the office file server? Maybe you need an automated offline filesystem, such as OFS.
Klaus Knopper is the creator of Knoppix and co-founder of the LinuxTag expo. He currently works as a teacher, programmer, and consultant. If you have a configuration problem, or if you just want to learn more about how Linux works, send your questions to: klaus@linux-magazine.com
The sys admin's (and the professor's) daily grind: Do-it-yourself antispam blacklists
At the Niederrhein University future admins implement spam defense mechanisms by attracting the attention of the Viagra Mafia. The results are pertinacious blacklists and expert knowledge of methods for combating the menace.
Cross-site scripting request forgeries
Sometimes, even ING, YouTube, The New York Times, and Google get it wrong.
NFS 3 and the specter of the spoof attack
Host-based authentication is easy to configure, but it doesn't do much to stop uninvited guests.
Visit Our Shop
Direct Download
Tag Cloud