Issue #120 / Nov 2010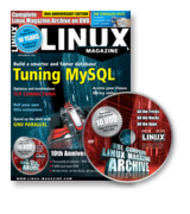 DVD: 10th Anniversary Edition: Complete Linux Magazine Archive on DVD!
COMMUNITY: Cache
Community Notebook: 10 year anniversary
A look back at 10 years ago... and at 2010.
Remembrance of Things Past
maddog reflects on events from the early days of Linux and why you can't always trust your memory.
TinyHeb, Liquid Feedback, and SparkleShare
Midwives battling bureaucracy, parties fighting against the general public's lack of interest, and users needing to synchronize their data – here are three open source tools that attempt to solve the problems of the world.
Visit Our Shop
Direct Download
Tag Cloud