Issue #121 / Dec 2010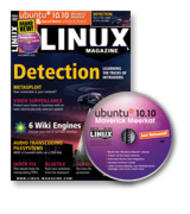 DVD: Ubuntu 10.10 & Special Bonus: Backtrack Network Security Suite
Download this issue as a PDF:
100 pages
Price $9.99

If you want to keep the intruders off your network, you have to learn to think as they think. This month, we show you some tricks of the trade. We look at the Metasploit framework, which helps you attack your own network and look for the gaps. You'll learn about some techniques the attackers use to fly under the radar, and we'll show you how to set up your own security camera system.
Click here to order this issue!
This month we also dig into:
Table of Contents: Detection
Welcome: Letter from the Editor
Ubuntu 10.10 Unveiled: Double-sided DVD in this issue.
Linux Magazine DVD Inlay: Ubuntu 10.10 "Maverick Meerkat"
eCryptfs: Keep your data safe with convenient file-level encryption.
Letters: A reader recommends the mozStorage API.
Lire: Keep your network in harmony with this easy log analysis tool.
Security Lessons - Plugins: Protect yourself from problems with plugins and extensions.
DBAN: Do your files really disappear when you press delete?
Ask Klaus! Knoppix creator Klaus Knopper answers your Linux questions: This month we tackle battery disconnect, bootloader problems, and VirtualBox.
Perl - Bypassing Splash Pages: A little Perl is all you need to slip past those pesky WiFi splash pages.
Transcoding Filesystems: 3 FUSE filesystems help you save disk space with audio transcoding.
Super Sudo: Use sudo for safer superuser access.
Command-Line PDF: Process your PDF docs quickly with these handy command-line tools.
Drivel: This practical blogging app saves time and lets you focus on the writing.
Bluefile: This nifty window manager keeps the windows in easy reach.
Workspace - OOo Macros: Dmitri rolls out some macros for saving text snippets and shortening URLs.
Wiki Engines: We explore some of the top wiki tools.
Cache: Rikki looks at mentoring projects available through Debian Women, LOPSA, Gnome Outreach, and InfoSec Mentors.
Doghouse: maddog pays a visit to Rio.
Kernel News: Zack Brown reports on recent developments in the Linux kernel community.
Projects on the Move: We examine Sofa (Statistics Open For All) and the After the Deadline proofreading tool.
Tech Tools: Netgear Launches Network Management Platform; Low-Distortion TI Operational Amplifier; Eurotech Unveils Catalyst TC; IBM New Global Financing Program.
* Google Play Magazines available in AUS, CA, FR, DE, IT, UK, USA
Visit Our Shop
Direct Download
Buy this issue as a PDF
Digital Issue: Price $9.99

(incl. VAT)
News
Both projects help organizations build their own containerized systems.

Mark Shuttleworth has resumed the position of CEO of Canonical.

Microsoft's open source code hosting platform CodePlex will come to an end after a more than 10-year stint.

Comes with Gnome 3.24

The bug was introduced back in 2009 and has been lurking around all this time.

The new release deprecates the sshd_config UsePrivilegeSeparation option.

Lives on as a community project

Five new systems join Dell XPS 13 Developer Edition that come with Ubuntu pre-installed.

The Skype Linux client now has almost the same capabilities that it enjoys on other platforms.

At CeBIT 2017, OpenStack Day will offer a wide range of lectures and discussions.