Issue #122 / Jan 2011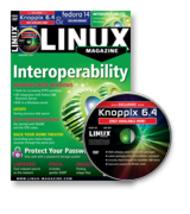 DVD: Knoppix 6.4 EXCLUSIVE! & Fedora 14
New Union Filesystem, New dd Clone, Planning for Stable Trees.
Chronicler Zack Brown reports on the latest news, views, dilemmas, and developments within the Linux kernel community.
Tortoise SVN and PayPal, voice controls for the desktop
The free software market is a very special little biotope, and life within it can be pretty treacherous at times, as the Tortoise SVN developer learned thanks to PayPal. Voice controls for the desktop are a far more harmonious affair.
Visit Our Shop
Direct Download
Tag Cloud