Issue #123 / Feb 2011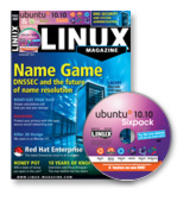 maddog pulls out his old HP-35, brushes up on reverse Polish notation, and takes the measure of modern storage on old technology.
People with long grey beards often talk about the systems they used to work on, how those systems had only "four kilobytes of memory," and the wonderful things they used to be able to do with them.
Zack's Kernel News
Chronicler Zack Brown reports on the latest news, views, dilemmas, and developments within the Linux kernel community.
Cache
Mobile app development startups mean opportunities in and out of IT.
Community Notebook
"It's not the years, honey, it's the mileage." – Indiana Jones to Marion Ravenwood in Raiders of the Lost Ark.
Community Notebook
Being well organized is very important, and free software developers can benefit from efficient time management and planning. OpenHatch facilitates the coordination of open source projects, and GTD-Free helps structure your leisure time.
Community Notebook
Developers, admins, educators, scientists, engineers, and students met in New Orleans for the annual SuperComputing conference.
Visit Our Shop
Direct Download
Tag Cloud