Issue #125 / Apr 2011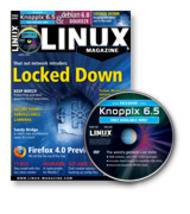 DVD: Debian 6.0 Squeeze & Knoppix 6.5 Exclusive
Tips for coordinating a killer con
Organizing your first community event? Experts weigh in with seven common mistakes to avoid.
Community Notebook: Jon 'maddog' Hall
maddog reflects on the importance of netiquette in daily communication.
Community report from the Fedora User and Developer conference
Out of FUDCon comes the faces, features, and future of the Fedora Project.
Report from the 2011 linux.conf.au
Rain or shine, the show goes on!
What's happening in the kernel community
Chronicler Zack Brown reports on the latest news, views, dilemmas, and developments within the Linux kernel community.
Matrex, Font Manager, and Window Switch
Matrex revolutionizes the way databases and spreadsheets cooperate, Font Manager handles fonts, and Window Switch magically sends program windows and complete desktops across the wire.
Visit Our Shop
Direct Download
Tag Cloud