Issue #127 / Jun 2011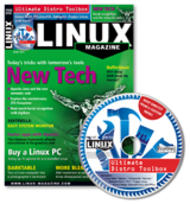 DVD: Ultimate Distro Toolbox: Linux Mint, PCLinuxOS, Sabayon, Puppy Linux, and more!
Programmable Blinky Lights, DIY Desktop Fab and 3D Printing, Arduino Boards
Free/​Open Source isn't just about software, it's also about hardware. Open hardware projects are proliferating, and just like open source software, you can get started inexpensively. Here are three projects that are fun, useful, and suitable for beginners to embedded programming, robotics, and building electronic devices.
Visit Our Shop
Direct Download
Tag Cloud