Issue #142 / Sep 2012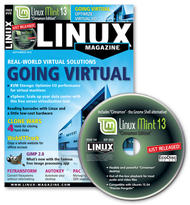 DVD: Linux Mint 13 "Cinnamon Edition"
An overview of the new features in GIMP 2.8
Although the developers of GIMP version 2.8 have not achieved all their goals, they've awakened great expectations with some impressive new features.
Improving account passwords
Even with encrypted drives, account passwords remain one of the prime security methods for any Linux system. With a little knowledge of the available commands and their options, you can make your account passwords more secure.
Pygmyfoto, a DIY photo publishing solution
Photo publishing applications are scarce, so we show you how to build one.
Barcodes and 2D codes for all
Machine-readable codes aren't just for big companies anymore. With the right programs and some low-cost hardware, you can create and read the most important codes.
Bundling software and hardware
Why do companies pay a "Micro$oft Tax" for putting the Microsoft operating system in each and every desktop computer and laptop? This practice is a time-honored tradition called "bundling."
Zack's Kernel News
Chronicler Zack Brown reports on the latest news, views, dilemmas, and developments within the Linux kernel community.
Windows 8 UEFI with Secure Boot
The coming Windows 8 implementation of UEFI with Secure Boot adds an extra layer of complexity for some Linux users. We look at the problem and two solutions from Fedora and Canonical.
Visit Our Shop
Direct Download
Tag Cloud