Issue #143 / Oct 2012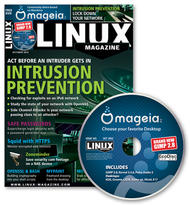 DVD: Mageia Linux
Network-attached storage keeps an eye on your stuff
Take advantage of the low watt per operation compute power offered by modern NAS to monitor your cameras.
Using the OpenSSL toolkit with Bash
Cryptography is an important part of IT security, and OpenSSL is a well-known cryptography toolkit for Linux. Experts depend on OpenSSL because it is free, it has huge capabilities, and it's easy to use in Bash scripts.
Protecting your database
Your database can be one of the most vulnerable elements in your organization. We share some tips for detecting and preventing attacks.
Pushing web applications live with Heroku
If you want to put together a web application in your favorite language and publish it for free, you will find Heroku a convenient helper. The service even allows you to bring your own web server.
Creating secure passwords and testing their quality
Create secure passwords with the help of a password generator and check for quality at the same time.
The sys admin's daily grind – GeoIP lookup
The global village is big enough to want to find out where your friend and enemies have set up camp. Charly offers a quick IP-based introduction to geography.
Flash filesystems for Linux
Whirring machines with rotating stacks of disks are out. The elegant tablets and smartphones of today's digital generation house flash memory that saves space and energy. We explain the characteristics of flash chips and suggest appropriate Linux filesystems.
Klaus Knopper answers your Linux questions
Klaus Knopper is the creator of Knoppix and co-founder of LinuxTag expo. He currently works as a teacher, programmer, and consultant. If you have a configuration problem, or if you just want to learn more about how Linux works, send your questions to: klaus@linux-magazine.com
Using a Squid proxy with HTTPS
How do you monitor the network when your client systems are connecting to secure web servers through HTTPS? We'll show you how to keep watch using the Squid proxy server and share some inventive certificate tricks.
An introduction to editing xorg.conf
Understanding xorg.conf makes it easy to tweak your graphical display setup.
Visit Our Shop
Direct Download
Tag Cloud