Issue #144 / Nov 2012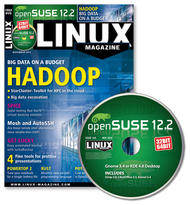 Cover Theme: Hadoop
DVD: openSUSE 12.2
Three plugins for WordPress
The WordPress plugin repository contains many nifty plugins. We take a closer look at three in particular that can extend the functionality of your WordPress installation.
Strategic planning
Mission, vision, and value statements can help define small businesses, corporations, and movements – including FOSS.
The Linux Beer Hike in Belgium
Land of the fries, home of the beer? Belgium has more to offer than that! In 2001 the LBW went to Bouillon, and this year the geeks returned to the small country in Western Europe – specifically to Diksmuide in West Flanders.
Andre Hedrick: In Memoriam
Chronicler Zack Brown reports on the latest news, views, dilemmas, and developments within the Linux kernel community.
Quantum computing and open source
With the arrival of the "first commercially available quantum computer," the D-Wave One, we look at what it is and what open source can contribute.
Visit Our Shop
Direct Download
Tag Cloud