Issue #149 / Apr 2013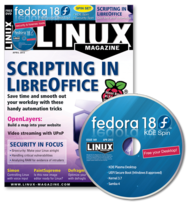 DVD: Fedora 18 Spin Set
Learning the basics of architectural security
Security applications like antivirus protectors respond to events, rather than preventing them from happening, but the best security in Linux is architectural – that is, in its configuration.
Eben Upton of Raspberry Pi
After six years of development, founder Eben Upton and the other members of the Raspberry Pi Foundation are finally seeing the results of their efforts.
Raspberry Pi produces a "step function in fun"
The Raspberry Pi computer has rekindled interest in tinkering with hardware and created a market for products combining the tiny computer with customized software.
Zack's Kernel News
Chronicler Zack Brown reports on the latest news, views, dilemmas, and developments within the Linux kernel community.
Visit Our Shop
Direct Download
Tag Cloud