Monitor logfiles in multiple windows with MultiTail
Supercharged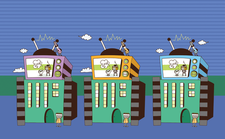 MultiTail is not only more powerful than Tail, it's also easier to use.
If you have ever done any system administration, chances are you have used tail [1] to watch the changes to the end of a file. MultiTail [2] is a supercharged version of Tail that uses ncurses to create multiple windows in a single console so you can view more the one file at a time. It includes options for starting a command with a new window or searching through its windows, as well as extensive options for customizing and manipulating the windows. The result is a command that is not only vastly more powerful than Tail, but easier to read and quicker to use as well.
MultiTail is packaged in many distributions and is also available as source code from the project website. It includes an extensive configuration file, /etc/multitail.conf for the system or ~/.multitailrc in the current account's home directory. How to edit either file would be an article in itself [3], but many of the choices are separate color schemes to indicate the various applications you are likely to use with MultiTail, ranging from the kernel or Apache to Squid and Sendmail.
The basic command is the name, followed by a space-separated list of files to open (Figure 1). Strictly speaking, the list of files should be prefaced by -i, but the option is only necessary if a command begins with a hyphen (-). Notice that each MultiTail window has a number that is used to manipulate it, as well as the file name on the title bar at its bottom.
[...]
Use Express-Checkout link below to read the full article (PDF).
comments powered by

Disqus
Visit Our Shop
Direct Download
Read full article as PDF: