Using Bitbucket and GitHub for Note-Taking as Writing Tools

Productivity Sauce
Apr 29, 2014 GMT
Both Bitbucket and GitHub feature built-in editors which can be used for creating and editing files. This feature can come in handy when you need to quickly jot down a note, draft an article, or save a text snippet. GitHub's editor is particularly suitable for writing and note-taking, as it supports soft wrap and the zen mode which provides a distraction-free writing environment. Bitbucket's editor doesn't offer any of these nice touches, but the service lets you maintain private repositories free of charge. So Bitbucket makes a better choice if you want to keep your scribbles private without spending money.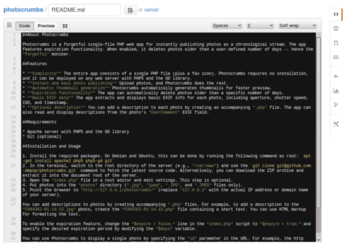 Using GitHub's and Bitbucket's built-in editors for note-taking is rather straightforward. To keep things tidy, you might want to set up a separate repository for your scribbles. Once you've done that, you can create a new text file and open it for editing. To do this on GitHub, click on the dedicated button which opens an empty file in the editor (see the Creating files on GitHub article for further info). You can then edit the file to your heart's content. You can edit existing files, too. In the repository, click on the file you want to edit, then press theEdit button. Working with files on Bitbucket is equally easy. Press the New file button to create a new file and open it in the editor. To edit an existing file, click on it, then press the Edit button.
comments powered by

Disqus

Issue 199/2017
Buy this issue as a PDF
Digital Issue: Price $9.99

(incl. VAT)
News
Both projects help organizations build their own containerized systems.

Mark Shuttleworth has resumed the position of CEO of Canonical.

Microsoft's open source code hosting platform CodePlex will come to an end after a more than 10-year stint.

Comes with Gnome 3.24

The bug was introduced back in 2009 and has been lurking around all this time.

The new release deprecates the sshd_config UsePrivilegeSeparation option.

Lives on as a community project

Five new systems join Dell XPS 13 Developer Edition that come with Ubuntu pre-installed.

The Skype Linux client now has almost the same capabilities that it enjoys on other platforms.

At CeBIT 2017, OpenStack Day will offer a wide range of lectures and discussions.