IDC: Companies select open source for safety reasons
Oct 04, 2007
In a survey by market-researcher IDC, companies in Australia, Korea, India and China quote better protection against vulnerabilities gaps as the main reason for the implementation of Open Source technology.
The survey titled "The Momentum of Open Source" comes to the conclusion that organizations in India and the People's Republic of China use more Open Source Software (OSS) than in Australia and Korea. In all four countries small to mid-sized enterprises (SMEs) deploy more free software than larger enterprises. "The results indicate that organizations perceived open source technology as providing better security compared to proprietary products", said Prianka Srinivasan, a market analyst with IDCs Asia/Pacific software research team. Although the market-researcher still see cost-efficiency as the key factor, OSS is now used for a precisely defined range of tasks.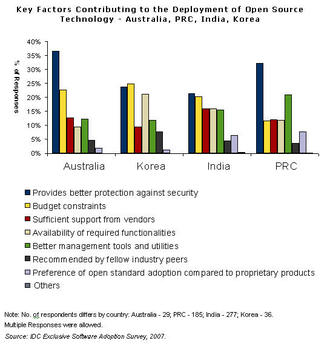 Security is of the reasons for the implementation of Open Source software, says US market researcher IDC.
Decision makers all over the world use OSS primarily for security reasons, with economy taking second place. Korea is the only country where budget concerns are more important. SMEs in Korea also see the quality of the free software and better management tools as the main benefit. "IDC believes that open source technology and software will appear in the higher end of the application stack in the coming years", Srinivasan predicts, adding that "Commercial vendors of open source software will need to provide extensive support and training services, as well as address the issues of interoperability, in order to take advantage of the addressable market for open source technology in the region." The survey is based on the results and analyses of the more comprehensive IDC Exclusive Software Adoption Survey from 2007.
comments powered by

Disqus

Issue 199/2017
Buy this issue as a PDF
Digital Issue: Price $9.99

(incl. VAT)
News
Both projects help organizations build their own containerized systems.

Mark Shuttleworth has resumed the position of CEO of Canonical.

Microsoft's open source code hosting platform CodePlex will come to an end after a more than 10-year stint.

Comes with Gnome 3.24

The bug was introduced back in 2009 and has been lurking around all this time.

The new release deprecates the sshd_config UsePrivilegeSeparation option.

Lives on as a community project

Five new systems join Dell XPS 13 Developer Edition that come with Ubuntu pre-installed.

The Skype Linux client now has almost the same capabilities that it enjoys on other platforms.

At CeBIT 2017, OpenStack Day will offer a wide range of lectures and discussions.