Moblin from OpenSUSE: SLED 11 as Moblin Boots in 10 Seconds
May 28, 2009
Novell's and Intel's collaboration on the Moblin project is showing its first fruits. The beta version of Moblin appeared alongside a special version of the SUSE Linux Enterprise Desktop.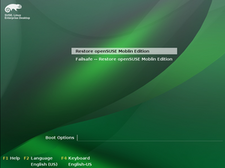 The installation program will automatically format your hard drive.
While Moblin up to now has stood for the quickstart Linux system from Intel, many distros are now likely to have a Moblin version. The first in a series is Novell's with a special version of its SUSE Linux Enterprise Desktop, SLED 11. The 1.3 GByte ISO image of its beta is available for download from the Novell ForgeFTP server and installable on practically all netbooks with Atom CPUs. Unlike the original Moblin, the openSUSE variant also supports systems without Atom CPUs.
The current version is not in any way intended for production environments. YaST automatically formats the complete hard drive during installation, so testing the new version requires the corresponding Linux know-how. Novell also provides the complete distro as RPM packages so that experienced openSUSE users can convert their own installations into Moblin ones.
The SLED 11-based distro boots up in very little time. The kernel and init scripts take about two seconds, although the X Server and openSUSE's GNOME desktop take about another 10 seconds. Novell is further fine-tuning the start time to get closer to that of the original Moblin version. Optimizations of the kernel should also flow into openSUSE 11.2 planned for the end of 2009, hopefully with a bootup time of less than 20 seconds, too.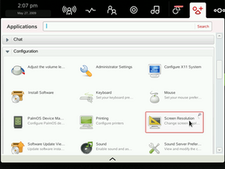 Not hard to recognize: the GNOME version of the openSUSE control center under Moblin.
Comments
Install

It is easy. You must burn the file on a cd with nero. And then you must boot the cd and install!

how can I installl it?

Do somebody know where can I see a howto for installl it?

Thanks for help.
comments powered by

Disqus

Issue 198/2017
Buy this issue as a PDF
Digital Issue: Price $9.99

(incl. VAT)
News
Both projects help organizations build their own containerized systems.

Mark Shuttleworth has resumed the position of CEO of Canonical.

Microsoft's open source code hosting platform CodePlex will come to an end after a more than 10-year stint.

Comes with Gnome 3.24

The bug was introduced back in 2009 and has been lurking around all this time.

The new release deprecates the sshd_config UsePrivilegeSeparation option.

Lives on as a community project

Five new systems join Dell XPS 13 Developer Edition that come with Ubuntu pre-installed.

The Skype Linux client now has almost the same capabilities that it enjoys on other platforms.

At CeBIT 2017, OpenStack Day will offer a wide range of lectures and discussions.