OSDC Conference via Live Stream
Apr 24, 2009
From April 29 to April 30 the Open Source Data Center (OSDC) Conference will be held in Nuremberg, Germany. All talks of the two-day-conference will be available on live stream and video here on Linux Magazine.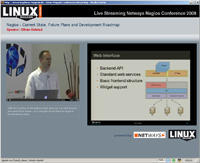 The Open Source Data Center (OSDC) Conference is a rare opportunity to meet with professionals and insiders, gather and share information over 2 days of presentations, and hands-on workshops on Open Source solutions for large IT Infrastructures.
Among the talks is "Using Puppet for Unix automation and configuration management" from Luke Canies, creator of puppet and founder of Reductive Labs. Charly Kühnast, Linux Magazine author, will be introducing "Spam filters for large installations with Open Source software". Balasz Scheidler, inventor of syslog-NG, will be talking about syslog-ng 3.0, and many more.
An overview and the link to the live stream is to be found here. The tracks including presentation slides are available for a fee, after the event the archive automatically gives you access to the recorded conference sessions of the live stream.
More information on the Nuremberg conference is also available on the NETWAYS GmbH website.
comments powered by

Disqus

Issue 37: Discover LibreOffice – 2019 Edition/Special Editions
Buy this issue as a PDF
Digital Issue: Price $15.99

(incl. VAT)
News
Anyone looking to finally get their hands on an early release of the PinePhone can do so as of November 15.

Microsoft is bringing it's new Chromium-based Edge browser to Linux.

OIN has deployed its legal team to find prior art.

The latest version of Fedora comes with new packages and libraries.

openSUSE enables developers to build their own WSL distributions.

A vulnerability in the sudo package gives sudo users more powers than they deserve.

The Art of PostgreSQL by Dimitri Fontaine is now available.

New distro will provide an upstream test bed for RHEL.

The feature will let developers restrict root access to the kernel.