OpenStack Announces Cactus Release
Apr 15, 2011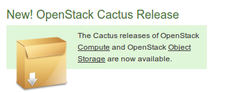 Today's announcement provides details on the new features included in: Nova (OpenStack Compute), Glance (OpenStack Image Registry and Delivery), and Swift (OpenStack Object Storage).
"I am impressed with the progress that has been made since the Bexar release just 10 weeks ago and believe the projects and code are tracking to fill the promise of being the ubiquitous, open source cloud solution, " said John Purrier, Director of OpenStack@Rackspace and Product Development for the Rackspace Cloud.
Changes to OpenStack's governance were also announced. The newly elected Project Team Leaders (PTL) for Nova, Glance, and Swift are Vish Ishaya, John Dickinson and Jay Pipes. The new PTLs will join other elected personalities, such as Thierry Carrez, Rick Clark, Eric Day, Soren Hansen, and Ewan Mellor on the OpenStack Project Policy Board.
Openstack has a new five step process for bringing projects into Openstack: publish the project's source code, gather community feedback, evaluation criteria, Project Policy Board review and decision, and optional incubation period.
The OpenStack Project Team Leaders invite users to join them in a Webinar on the Cactus releases on Tuesday, April 19th, at 3:00PM CST
comments powered by

Disqus

Issue 199/2017
Buy this issue as a PDF
Digital Issue: Price $9.99

(incl. VAT)
News
Both projects help organizations build their own containerized systems.

Mark Shuttleworth has resumed the position of CEO of Canonical.

Microsoft's open source code hosting platform CodePlex will come to an end after a more than 10-year stint.

Comes with Gnome 3.24

The bug was introduced back in 2009 and has been lurking around all this time.

The new release deprecates the sshd_config UsePrivilegeSeparation option.

Lives on as a community project

Five new systems join Dell XPS 13 Developer Edition that come with Ubuntu pre-installed.

The Skype Linux client now has almost the same capabilities that it enjoys on other platforms.

At CeBIT 2017, OpenStack Day will offer a wide range of lectures and discussions.