Seamstress: Intelligent Image Scaling
Oct 08, 2007
The Seamstress image manipulation library promises smaller images without compromising detail. Version 1.0.0 of the software, which was released recently, uses an "energy function" to analyze various areas of the image before compressing and does not change eye-catching areas.
Content-aware image scaling is how the inventors Ariel Shamir (Interdisciplinary Center Herzliya) and Shai Avidan (Mitsubishi Electric Research Laboratories) refer to their method, which only modifies the "boring" parts of a graphic. The GPL'd Seamstress C library implements the approach shown in the figure: when the original image (top) is resized, the marbles simply move closer together without changing shape (bottom left). The version bottom right shows a conventionally scaled version that clearly demonstrates the differences.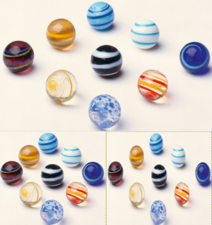 Compressed: Seamstress simply compresses the free areas between the marbles (bottom left). In contrast to a simple width rescale (bottom right) the marbles keep their shape.
Besides the library, the Sourceforge project includes the GTK application Arachne, which demonstrates the functionality of Seamstress without requiring programming skills on the part of the user. The application modifies Tiff images dynamically to reflect the window size. Besides automatic analysis of the screen area by the software, users can manually select objects they do not wish to scale. As the screenshots show, you can even remove undesirable elements from images without compromising the realistic character of the image.
(Peter Kreußel)
comments powered by

Disqus

Issue 199/2017
Buy this issue as a PDF
Digital Issue: Price $9.99

(incl. VAT)
News
Both projects help organizations build their own containerized systems.

Mark Shuttleworth has resumed the position of CEO of Canonical.

Microsoft's open source code hosting platform CodePlex will come to an end after a more than 10-year stint.

Comes with Gnome 3.24

The bug was introduced back in 2009 and has been lurking around all this time.

The new release deprecates the sshd_config UsePrivilegeSeparation option.

Lives on as a community project

Five new systems join Dell XPS 13 Developer Edition that come with Ubuntu pre-installed.

The Skype Linux client now has almost the same capabilities that it enjoys on other platforms.

At CeBIT 2017, OpenStack Day will offer a wide range of lectures and discussions.