Ted Ts'o Named CTO of Linux Foundation
Dec 22, 2008
The foundation behind the free Linux OS has appointed kernel developer and IBM collaborator Theodore Ts'o as its Chief Technology Officer (CTO).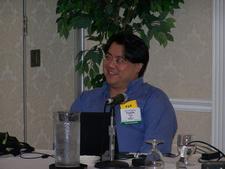 Kernel developer Ted Ts'o at LISA USENIX conference
Ts'o will be replacing Markus Rex, who will return to his management position at Novell. Ts'o has been a fellow at the Linux Foundation since 2007, along with Steve Hemminger, Andrew Morton, Andrew Tridgell and Linux founder Linus Torvalds. Attorney Andy Updegrove of the foundation comments on the appointment with "Ted is a great choice for a variety of reasons, one of which is that few people have been knocking around the Linux world longer than Ted - he was the first North American kernel developer (in 1991)." Ts'o is recognized for his many achievements, including leadership of the Kerberos authentication project and developing the userspace utilities for the ext, ex3 and ext4 filesystems (the latter of which he currently maintains). He is also well known in other circles than Linux. In 2006 he was recognized by the Free Software Foundation (FSF) for his accomplishments in free software. He is founder and leader of the kernel developers' annual meetings and gives regular tutorials, such as last month at USENIX LISA in San Diego.
Among the tasks set for Ts'o at the Linux Foundation is supervising and leading technical projects such as the Linux Standard Base and the OpenPrinting workgroup. Ts'o recognizes the amount of work involved and the power of mass collaboration with "I'm looking forward to translating that power into concrete milestones for the LSB specifically, and for Linux overall, in the year ahead." As foundation CTO, he is also the prime technical contact for its members and kernel advisory board.
Ts'o has been at IBM since 2001, where he recently led an international team working on real-time solutions for Linux on an enterprise level. He will be returning to IBM after his two-year fellowship at the Linux Foundation.
comments powered by

Disqus

Issue 199/2017
Buy this issue as a PDF
Digital Issue: Price $9.99

(incl. VAT)
News
Both projects help organizations build their own containerized systems.

Mark Shuttleworth has resumed the position of CEO of Canonical.

Microsoft's open source code hosting platform CodePlex will come to an end after a more than 10-year stint.

Comes with Gnome 3.24

The bug was introduced back in 2009 and has been lurking around all this time.

The new release deprecates the sshd_config UsePrivilegeSeparation option.

Lives on as a community project

Five new systems join Dell XPS 13 Developer Edition that come with Ubuntu pre-installed.

The Skype Linux client now has almost the same capabilities that it enjoys on other platforms.

At CeBIT 2017, OpenStack Day will offer a wide range of lectures and discussions.