04: Discover Google / Mar 2009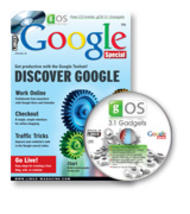 DVD: gOS
A view from inside the Google Toolset
Save time and simplify your life with Google's innovative online tools.
Exploring space with Google Sky
Google has maps and photos of nearly all of the earth's surface. Now Google Sky lets you explore space, with the Moon and Mars enjoying a special status.
Fearless 3D with Google SketchUp
If you feel intimidated by 3D computer modeling, you'll be pleased to find Google SketchUp. Now in release 7.0, Sketchup is extraordinarily simple to use and free for personal use.
Getting started with Google Web Toolkit
The Ingenious Google Web Toolkit builds optimized JavaScript applications in a hurry.
Google App Engine
Web developers dream of getting their hands on the collective power of Google's servers. Google App Engine offers a free corner of the Google universe.
Visit Our Shop
Direct Download
Tag Cloud