05: Google Special / Oct 2009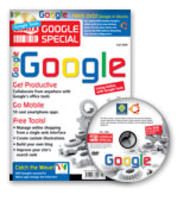 Cover Theme: Google
DVD: Ubuntu: Google Tools
The DVD with this issue includes a special version of Ubuntu Linux with several of the most popular Google Tools conf......
Communicate, collaborate, and create with free tools from Google
Google believes most of what you do on a computer can happen in a browser window – from anywhere in the world. The versatile Google tool set brings that vision to everyday users, and it is all just a few mouse clicks away.
COVER STORY: Wave
A look ahead at Google's exciting Wave project
Part email, part instant messenger, part bulletin board, and part wiki, Google's new communication platform promises to transform correspondence into conversation.
Exploring Google Earth
Google Earth lets you view the world from space and zoom in on towns, roads, and buildings. We'll show you how to travel our planet's surface, its cities, and even the sky from your desktop.
Picasa 3.0 image manager
In the age of the digital camera, users are overwhelmed by a flood of images. Picasa not only helps you manage photos but also will enhance the image quality with just a couple of mouse clicks.
Where in the World Are Carmen and San Diego?
Google Maps can pinpoint any location on the globe and more. Here's how to embed the service into any web application.
Visit Our Shop
Direct Download
Tag Cloud