06: Linux Shell Handbook / Dec 2009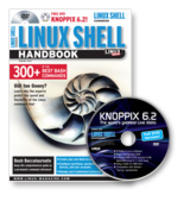 DVD: Knoppix 6.2: The World's Greatest Live Distro
Working at the command line
Beyond all the splash screens, screen savers, and vivid rock-star wallpaper is the simple yet powerful Bash shell.
Learning file management commands
We give you an overview of commands for moving, editing, compressing, and generally manipulating files.
Text processing and filtering
Enjoy a crash course on some of the text-processing and -filtering capabilities found in Linux.
Configuring filesystems with mkfs, df, du, and fsck
Although most Linux distributions today have simple-to-use graphical interfaces for setting up and managing filesystems, knowing how to perform those tasks from the command line is a valuable skill. We'll show you how to configure and manage filesystems with mkfs, df, du, and fsck.
KNOW-HOW: Yum
Yummy yummy Yum
The RPM package manager Yum has its own advantages over other tools.
Secure connections with SSH
Whether you need an encrypted tunnel between multiple PCs or graphical applications over a LAN, the all-purpose SSH tool leaves little to be desired.
Visit Our Shop
Direct Download
Tag Cloud