Managing email with Evolution
Email Wizardry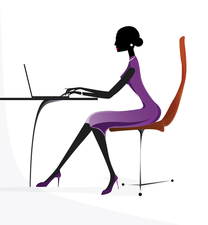 We show you how to manage your email more efficiently with the lightweight Evolution email client.
Although Evolution [1] may look like a lightweight email client, it's packed with features that can help you manage email messages in the most efficient manner. This article will help you to master Evolution's basics.
Configuring Evolution
When you launch Evolution for the first time, the Evolution Account Assistant conveniently guides you through the process of configuring basic settings (Figure 1). The first step offers to restore existing personal data, settings, and so on from a backup file. This process can be useful when you are migrating from another Evolution installation, but if it's your first time using the application, you can safely skip this step by pressing Continue.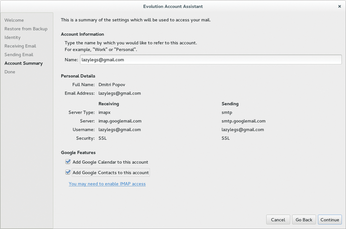 Figure 1: Evolution Account Assistant guides you through the process of adding and configuring an email account.
You are then prompted to configure an identity. At the very least, you need to specify your name and email address. If you happen to use Gmail as your preferred email service, the wizard automatically configures incoming and outgoing server settings for you. Otherwise, you need to provide the required information manually. Before you proceed, make sure you have the required information handy.
In the Receiving Email section, specify the server type (i.e., email protocol used by the email service) by selecting the appropriate item from the Server type drop-down list. Enter your user name in the Username field, specify the encryption and authentication settings (consult your email provider if you are in doubt), and press Continue. The Receiving Options section lets you enable and disable various settings. Probably the only option you want to tweak here is the email polling interval. By default, it's set to 60 minutes, but you can change that by specifying the desired value in the Check for new messages field.
You can disable this option altogether if you prefer to check email manually. Press Continue again and provide the required settings for the outgoing server in the Sending email section. Hit Continue and review the configured account in the Account Summary section. Here, you can also enable Google-specific features (add Google Calendar and add Google contacts), provided you've configured Evolution for use with Gmail. Press Continue one more time and hit Apply to finish the setup process and save the configuration.
To configure Evolution for use with any other calendar than Google's, you need to create a new calendar manually. To do this, choose New | Calendar from the main toolbar. Using the available options, you can create a local calendar file stored on your machine or connect Evolution to CalDAV-based remote calendars.
Getting Started with Evolution
If you've ever used a desktop email client, you'll feel at home in Evolution. The application's interface follows the conventions of a standard email client, so you should be able to quickly find your way around (Figure 2). The left pane lists all configured email accounts and their folders, while the right pane shows a list of emails in the currently selected folder. When you select a message in the list, its content is displayed in the bottom pane.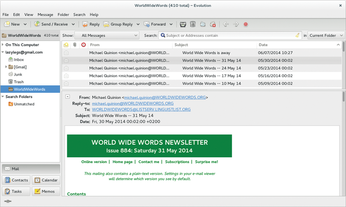 Figure 2: Evolution features a standard email interface.
The main toolbar gives you quick access to frequently used actions and tools, such as checking email, replying to the currently selected message, deleting messages, etc. Using the Show drop-down list below the toolbar, you can view messages matching certain criteria. For example, you can view unread messages, emails containing a specific label (e.g., Important, Work, Personal, etc.), and messages with attachments. The Search field next to the drop-down list can be used to search emails by subject and addresses.
Right-clicking on an email message gives you access to a long list of useful commands. Besides commands that let you reply, forward, copy, move, and delete the currently selected message, the context menu offers a handful of useful items. The Mark for Follow Up command, for example, lets you add an action flag to the selected message. You can choose from several actions (Follow Up, Read, Reply, Review, etc.) and specify the desired due date and time (Figure 3).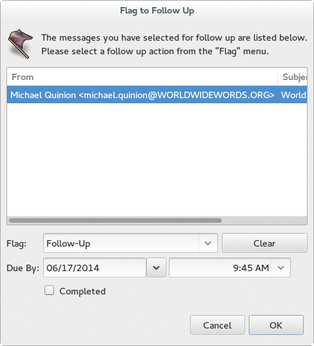 Figure 3: You can flag email messages using the Flag to Follow Up command.
The Label command lets you assign one of the existing color labels or create new ones. The Create menu item gives you access to even more commands. Using them, you can turn the selected message into a calendar entry, a task, or a memo. Choosing the Create a Task command, for example, opens the Task window. Evolution automatically parses the selected message and automatically fills out some of the fields, including Summary and Description, in the Task dialog window (Figure 4). Here, you also specify other task properties, including status, due date, and priority. If the message contains an attachment, it's conveniently added to the task.
Figure 4: The Create a Task command lets you turn the selected email message into a task.
Speaking of tasks, Evolution includes the Personal task list by default, but you can easily add as many task lists as you need. To do this, choose File | New | Task List, select the desired list type, give the list a descriptive name, and choose the desired list color. Tick the Mark as default task list check box if you want the new list to be the default one, then press OK.
The next group of commands under the Create menu item of the context menu allows you to define message filters based on various criteria. This powerful feature can help you automatically process and sort incoming emails. Although the available commands can be used to create a filter based on subject, sender, or recipient, you can define filter rules using a wide range of other criteria. To create a filter, right-click on a message and choose Create | Create a Filter Rule for Subject.
A filter rule consists of two parts: conditions and actions. You can use the default condition on the Add Filter Rule window as a starting point for creating your own conditions. Specifying a condition is a matter of choosing the desired criteria, operator, and match string. You can choose from a long list of criteria: including Sender, Subject, and Message Body, as well as Label, Status, and Attachments. The range of available operators depends on the selected criteria. You can add as many conditions as you need, and you can specify whether you want to find messages that match all conditions or only one of them by selecting the appropriate item in the Find items which match drop-down list.
Next, you need to define at least one action to perform on the matching messages (Figure 5). Using the available options, you can create actions for moving the messages to specific folders, assign labels to the messages, play a sound, and even run an external application. Once you've created a filter rule, it applies to all incoming messages that match the defined conditions. To apply the filter rule to the existing messages, select them and choose Message | Apply Filter (or press Ctrl+Y). To edit defined filters, or remove them altogether, choose Edit | Message Filters.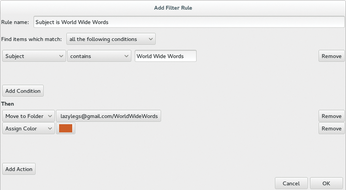 Figure 5: Defining a filter rule.
In addition to filters, Evolution lets you set up saved searches, and several commands under the Create menu item help you to do just that. Similar to filter rules, each saved search consists of one or multiple conditions. Defining conditions for saved searches is not very different from creating conditions for filter rules, so you can quickly figure it out. Saved searches appear under the Search Folders item in the left sidebar. Select the saved search you want to instantly view from a list of matching messages. Using the Edit | Search Folders command, you can modify the existing saved searches as well as delete them (Figure 6).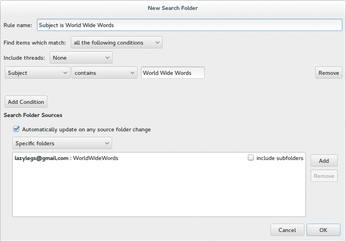 Figure 6: Creating a saved search.
Evolution has yet another creature comfort that makes daily emailing more efficient: The application lets you create email templates, which can save you a lot of typing. You can create templates in different ways in Evolution. To turn an existing message into a template, right-click on the desired email and choose the Move to Folder or Copy to Folder command. Then, select the Templates folder under On This Computer. You can also edit an existing message before saving it as a template. Creating a new template from scratch is equally easy. Compose a message in the usual manner, then choose File | Save as Template (or press Ctrl+Shift+T).
Final Word
Although many popular email services (e.g., Gmail, Yahoo! Mail, FastMail, and others) offer web interfaces, a dedicated desktop email client like Evolution still deserves a place in your productivity toolbox. The application allows you to manage email more efficiently, it offers a slew of handy tools, and it lets you keep tabs on other personal information.
comments powered by

Disqus
Visit Our Shop
Direct Download
Read full article as PDF: