Fedora with the LXDE desktop
Let There Be Light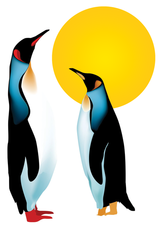 If you plan to run Linux on older or less powerful hardware, say a netbook or a pre-2010 laptop, you might want to try the LXDE desktop environment.
In Windows, the graphical user interface (GUI) is integrated with the operating system itself. You can change the theme or wallpaper, but the basic collection of desktop tools, and the way these tools interact with the system, is always the same. On Linux or Unix systems, the user interface is a layer that you can easily add or remove from the underlying system. The collection of tools, themes, and programming libraries that make up the user interface is known as the desktop environment (or "desktop").
Linux supports several desktop environments. The default desktop for Fedora (as described elsewhere in this issue) is called Gnome. Gnome is a powerful and versatile system that provides a useful constellation of desktop applications, but it is designed for modern systems with contemporary processor speeds and abundant RAM. Linux has a number of smaller, lighter desktops that often work better on older systems with less memory and slower processors.
One popular desktop for older, lower power systems is LXDE (Lightweight X11 Desktop Environment) [1]. LXDE has garnered some attention recently as the desktop of choice for the tiny and light Raspberry Pi computer, but LXDE also runs on conventional PC desktop and laptop systems. For older computers that are light on hardware resources, the Fedora project provides the "LXDE Spin" [2], a special version of Fedora that uses LXDE instead of Gnome. If you're installing Fedora on an older system, you might want to try the LXDE Spin instead of the standard Fedora version. The LXDE Spin is on the DVD included with this issue.
Install
The LXDE Spin image included on the DVD with this issue is a Live ISO, so you can try it out first and see if it's what you're looking for without actually having to install anything. Open your DVD player, insert the disk, and make sure you have configured your BIOS so that the DVD reader is above your hard disk in the boot sequence section (see also the "No DVD Reader? No Problem" box).
No DVD Reader? No Problem
Fedora's LXDE Spin is, apart from very light, also very small. Weighing in at a little over 600MB, it will fit on practically any USB thumbdrive or even on an old-fashioned CD. You can get your ISO image [2] and learn how to copy it over to a thumbdrive [3]. One way or another, you should have no trouble making the medium that will work with your computer.
The first thing you should see is a screen like that shown in Figure 1. You can navigate the two options using the up and down arrows on your keyboard. Press Enter to pick one or the other. Select the bottom option, and you'll see something like what is shown in Figure 2. From here, you can check that the data on your disk is correct or whether your RAM has any problems you should be aware of. Return to the main menu when you're done.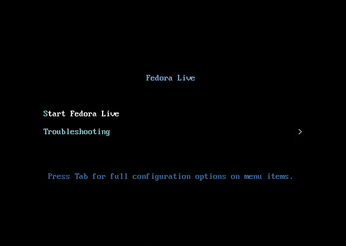 Figure 1: The Fedora LXDE Spin boot menu.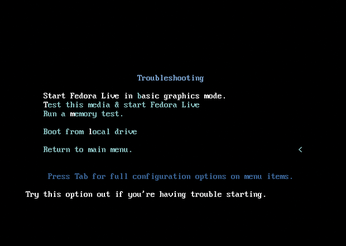 Figure 2: Check your disk or run a memory test before firing up Fedora.
With all your testing done, you're ready to start Fedora's Live LXDE Spin. Pick the first option and hit Enter. Even in the most underpowered machine, this shouldn't take long, and after the brief booting sequence, you should be rewarded with the LXDE desktop, as shown in Figure 3.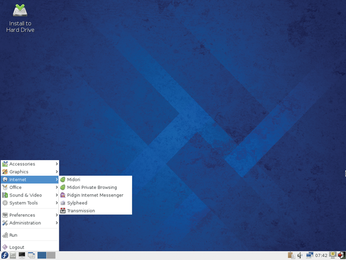 Figure 3: After a short boot, you will see the LXDE desktop ready for testing.
From here, you can check to see whether apps work smoothly on your machine; whether peripherals, such as printers, are recognized; whether your WiFi works; and whether your graphics card plays nicely with LXDE. Once you are happy that everything (or mostly everything) works, click on the Install to Hard Drive icon on the desktop to start setting up Linux permanently on your computer.
The first thing the installer will ask you to do is select a language for the install. Once set, in the next screen you can set up your timezone and your keyboard language if it is different from the dialog language.
You can also set up partitioning from here. Be advised that partitioning is a nerve-racking process, because it entails deciding how you split up your hard disk; one false move can delete all your data. That's why you always back up all your files before you start! When you click the partitioning button, you will see a list with all the hard disks Fedora has detected (usually just one). Click on the hard disk you want to install to, and a tick will appear in the bottom right-hand corner of the icon. If you now click on the Done button (upper left-hand corner), you will see something like Figure 4.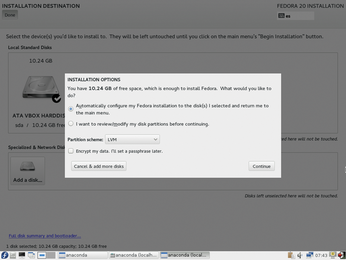 Figure 4: The Installation Options dialog lets you decide how to split up the hard disk.
Now is when things start to get tricky, so read the pop-up dialog carefully. In the example, I am installing onto a blank, 10GB hard disk, so the partitioner suggests taking up the whole disk. However, your case will likely be very different. If the partitioner finds a preconfigured hard disk, it will tell you so. For example, on another machine, the partitioner informed me that, although I did not have enough free space to install Fedora, it had found existing partitions used by existing operating systems with reclaimable space – that is, empty space that could be reclaimed by moving files and resizing the partition (Figure 5).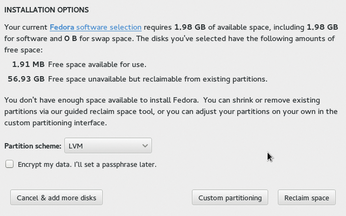 Figure 5: If the partitioner finds preconfigured partitions, it will tell you if you can reclaim space from them.
Clicking on Reclaim space leads to a wizard that lists all the existing partitions. Clicking on each, you can see how much space you can take from them without (theoretically) destroying the data they contain (Figure 6). Remember that moving data and resizing partitions is always slightly risky, so, again, back up your files!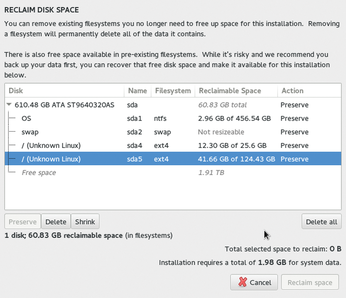 Figure 6: Partition sda5 can contain over 124GB of data, but only 41 or so are used. Thus, 60GB can be reclaimed.
Once you're done reclaiming space, you will return to the previous window. If you now click Continue, the install proper will start, and the whole system will be installed on one partition. On the other hand, you could customize your partitions by choosing I want to review/modify disk partitions before continuing. My advice is that you only do this if you're very sure you know what you're doing. That said, the partitioner will always alert you before any permanent change is made to your disk, so if you're unsure, you can backtrack and cancel any modifications you make.
A common way of configuring your hard disk, apart from having everything on one partition, is to have everything the system needs on one smaller partition and then put the /home directory, containing all your personal stuff, on a much larger, separate partition. If, for example, you had 50GB of free space, you could allocate 10GB to the system root (/) partition, 39GB to the /home partition, and 1GB to swap (the equivalent of virtual memory, i.e., disk space used as memory when RAM runs low).
The reason to divide your disk in this way is that Linux installs are usually quite small, whereas users tend to accumulate a lot of large files (music, videos, documents, etc.) over time. By having a separate partition for your /home directory, you can do a clean install or install a new, different distribution, over your root (/) partition and leave all your personal files and settings intact.
The Fedora partitioner does plenty of hand-holding. Press the + button and a new dialog appears giving you the different possible choices (/, /home, /boot, swap, etc.) from a drop-down menu. When you mouse over the Desired Capacity text box, floating hints pop up informing you of the format to use when writing in your choice. You also have a comprehensive help that explains concepts, pitfalls, and common setup configurations. Figure 7 shows a setup where root (/) and /home are given more or less equal space (~54GB), and swap is given about 100MB. The Reset All button in the bottom right-hand corner undoes all changes, and pressing Done writes the changes to the hard disk. (No undoing after that, so be careful!)
Figure 7: Once you have made space, you can assign chunks of your hard disk to the different partitions.
Once you have decided how to split up your hard disk, the installation proper begins. This process will take a while and, in the meantime, you are encouraged to establish the root user's password and to create at least one regular user. Clicking on ROOT PASSWORD pops up a dialog allowing you to input the password that you'll need to become superuser/root user. This must be a strong password! Do not use admin, 01234, or anything else that is too obvious.
To add new users to the system, click on USER CREATION. Users will have their own space on the hard disk and their own desktop, which they can configure to their liking. If you check the Make this user administrator checkbox, users will be able to use their own passwords to carry out system-wide administrative tasks (install software, configure printers, add or delete user accounts, and so on), just like the superuser root. If you have to use this feature, only use it for the person who is ultimately responsible for the machine. If it is your computer, bought with your money, that person is you. Click Done to save all your changes. You can create as many user accounts as people who are going to use the machine.
When copying has ended, remove the installation disk or USB thumbdrive and reboot your computer. Congratulations: Your Fedora system is now installed.
Finding Your Way Around
When you reboot your computer, you will see a screen as shown in Figure 8. With every new kernel update (more about this later), more entries will be added to this list. Normally, you should pick the top one (most recent) using your arrow keys and press Enter to boot your Linux. Only pick a lower entry if something goes wrong (e.g., Fedora doesn't boot or your graphics are messed up).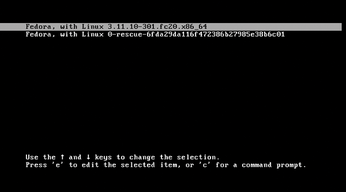 Figure 8: First boot. Pick the top option and press Enter.
The next thing you can interact with is the login screen. If you created more than one user during the installation, you will see a list of users. Click on the user you want to log in as and enter the password.
After a few seconds, the desktop will appear. In your first run, LXDE will alert you about Clipit, the clipboard utility, which will register everything you copy and paste in a plain text file containing up to 50 entries. If you copy and paste passwords and other users access your computer, this could be a security issue. If you are the only person who is going to use the account, you can safely click Yes.
Now is the time to explore the environment a bit. At the bottom of the screen, you have what's called the panel (Figure 9) – a bar that contains a menu to access apps and utilities, just as in Windows. It can show open windows, has a tray on the far right, and so on. You can modify the panel to add or remove apps and widgets by right-clicking with your mouse. You can also create new panels on the sides or at the top of the screen (Mac OS X-like!) or remove it completely.

Figure 9: LXDE's panel comes preconfigured with several apps and utilities.
The second element from the right, the icon that looks like a filing cabinet, is your file browser. This tool allows you to explore the contents of your hard disk and see and manipulate files and directories. You can have several tabs open at one time, connect to servers, drag items from one place to another, and open files by double-clicking on them.
Continuing along the panel from left to right, the fifth element from the right is the Desktop pager, which allows you to set up more than one desktop to use at the same time. Imagine it as having more than one table on which to spread your stuff while you work. LXDE sets up two areas for you by default, although you can have more. You can have different windows open on each and send windows from one desktop to another by dragging them to the edge of the screen or by right-clicking on the title bar and choosing Send to desktop from the pop-up menu.
Finally, at the far end, you have a tray, containing NetworkManager, a clipboard, the volume control, a clock, a lock screen widget, and a button that allows you to log out. The first element in the tray, NetworkManager, deserves a closer look, because you still probably haven't set up your WiFi, and NetworkManager is where you'll do that.
WIFi
If your computer has a physical switch for your WiFi, make sure it is set to On. Then, right-click on the NetworkManager icon (two computers linked together) in the tray and click Enable WiFi. Click NetworkManager's icon again, but this time using your mouse's left button (i.e., the regular button you use to click on things), and you should now see the WiFi networks your computer is picking up. Click on the network you want to connect to and, using the dialog, input your network's password. You should now be able to connect wirelessly to your network.
comments powered by

Disqus
Visit Our Shop
Direct Download
Read full article as PDF: