Video and sound
Music to Your Ears

Enjoy music and video on your Fedora machine.
If you want to use your machine to listen to music and watch videos, Fedora has you covered, but you need to do a couple of things to enjoy your MP3 music collection, play DVDs, and watch kitten videos on YouTube.
Installing Missing Pieces
As you would expect, Fedora comes with applications for playing videos, listening to music, and watching movies, but there is a rub. As a purely open source Linux distribution, the stock version of Fedora doesn't include any non-free components. Among other things, this means that the distro can't handle popular proprietary media formats like MP3 right out of the box. There are plenty of arguments for and against this approach, but the bottom line is that you need to enable support for non-free media formats by manually installing the required codecs (see the "Codecs, Shmodecs" box).
If you are migrating to Fedora from Windows, all this talk about codecs can be somewhat confusing. After all, your Windows machine could play music and video straight out of the box, so why can't Fedora do that as well? Proprietary codecs are the main reason for that. Codec, which stands for coder-decoder, is software for encoding and decoding a digital data stream in a specific format. So, for example, the MP3 codec is used to encode and decode sound data in the MP3 format. This means that the MP3 codec is required for playing and recording sound in the MP3 format. Many popular codecs are released under proprietary licenses that are not compatible with the open source philosophy. To avoid dealing with philosophical and legal issues, some Linux distributions, including Fedora, chose not to include proprietary codecs by default, leaving that decision to individual users.
In most cases, this process involves adding software sources containing the non-free components and then installing the required packages on your system. Fortunately, this is a relatively simple thing to do. In fact, you have several ways to add support for popular media formats. The easiest way is to use the Fedy script [1] that does the donkey job for you. Simply use the following command to download and install Fedy:
su -c "curl https://satya164.github.io/fedy/\
  fedy-installer -o fedy-installer \
  && chmod +x fedy-installer \
  && ./fedy-installer"
Once you've done that, open the Terminal and run the
sudo fedy
command. In the Fedy window, select the Tweaks and tasks item and press the Select button; you should see a list of supported tweaks (Figure 1). At the very least, you need to select the Install Adobe flash plugin and Install multimedia codecs items. If you want to play commercial DVDs on your machine and install additional non-free software, you should also select the Enable DVD playback and Configure RPM Fusion repositories items. Press the Select button and wait until the script completes the selected tasks.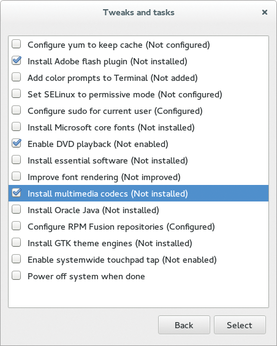 Figure 1: Fedy allows you to install the codecs and other non-free software with ultimate ease.
If you feel comfortable working from the command line, you can bypass Fedy's graphical interface and perform specific tasks more efficiently using the Terminal. The commands
sudo fedy -e list
sudo fedy --exec <task>
list all supported tasks then perform a desired task. For example, to install the Adobe Flash plugin, run the following command:
sudo fedy --exec adobe_flash
Fedy is not the only tool that allows you to install non-free software and codecs. The easyLife [2] utility makes the process of adding proprietary codecs and software a breeze. Unlike Fedy, easyLife is distributed as an RPM package that you can download from the project's website. Once you've done that, just double-click on the downloaded .rpm package to install it. You can then launch easyLife as a regular application (Figure 2). easyLife's interface consists of a single window that lists all available options. To install codecs and the Flash plugin, simply tick the appropriate check boxes and hit OK.
Figure 2: Similar to Fedy, easyLife can be used to install missing software.
Fedora usually does a good job of detecting and configuring the audio hardware, so in most cases, sound on your machine should work right out of the box. But, if you need to tweak sound settings manually, you can do this in the Sound module of the Settings control panel (Figure 3). To access the control panel quickly, click on the system tray in the upper-right corner of the screen and press the Settings button. The Sound module lets you adjust volume settings, test speakers and input devices (e.g., a built-in microphone). Under the Applications tab, you can adjust volume settings for currently active applications.
Figure 3: Configuring sound settings in the Sound module.
Playing and Streaming Audio with Rhythmbox
Fedora comes with a simple yet versatile player called Rhythmbox. Despite its deceptively simple interface, Rhythmbox is a rather capable application that can handle practically any music-related task you throw at it: from listening to and ripping CDs to streaming Internet radio. If you ever tried using a music player like iTunes or Windows Media Player, you'll have no trouble mastering Rhythmbox's basics. When you launch the player and switch to the Library Music section, pressing the Import button adds music files to the library in the default Music folder. The import procedure processes found music files and neatly organizes them by artist and album (Figure 4).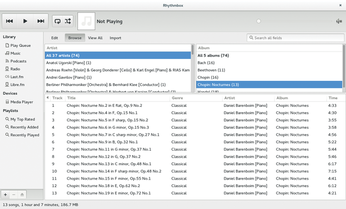 Figure 4: Rhythmbox is a capable music player that can handle local files and audio streams.
Instead of manually importing music files, you can configure Rhythmbox to monitor the default music folder and add new files automatically. To do this, choose Preferences from the main menu, switch to the Music section, and enable the Watch my library for new files option. While you're at it, you might want to change the ripping format and settings. By default, Rhythmbox uses the Ogg Vorbis format, but you can change that by selecting another supported format (e.g., MP3, or MPEG Layer 3 Audio, as it appears in Rhythmbox).
Rhythmbox can also handle music devices like Android smartphones, iPods, and other MP3 players. When you connect the device to your machine, Fedora automatically detects it, and it appears in Rhythmbox under the Devices section in the left-most pane (Figure 5). Here, you can browse the music files stored on the device, as well as import them into Rhythmbox's library. As you would expect, Rhythmbox can also play regular CDs, and it can fetch album and track info from an online database. Better still, if you choose to import CDs into the Rhythmbox library, the application automatically rips the CD into the format you specified in the preferences.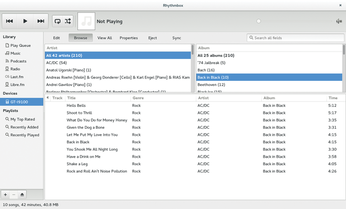 Figure 5: Using Rhythmbox, you can browse music files on an external device and import them into the application.
Once music files have been imported, you can use the buttons in the main toolbar to play or pause any track and jump to the previous and next track. Rhythmbox also has dedicated buttons for repeating the current track and playing a random track. By default, Rhythmbox plays all tracks in the currently selected album sequentially, but you can queue the desired tracks from different albums in the Play Queue section and arrange them in any order you want. To add a track to the Library's Play Queue section, you can either drag and drop the track (or the entire album) using the mouse, or right-click on a specific song and select the Add to Queue command.
As with any self-respecting music player, Rhythmbox supports playlists, and you have two ways to create these. One way is to press the plus (+) button in the lower-left corner of the main window, choose New Playlist, and give the new playlist a descriptive name. To populate the playlist with tracks, you can either drag and drop the songs you want using the mouse, or you can use the Add to Playlist command from the context menu when you right-click an individual track or a group of selected tracks.
In addition to regular playlists, Rhythmbox lets you create so-called automatic (or smart) playlists containing tracks matching specific criteria. To create an automatic playlist, press the plus button and choose New Automatic Playlist. Specify then at least one condition. For example, to create a playlist containing all Chopin's tracks, you can create the condition shown in Figure 6. You can specify as many conditions as you need. When you are done configuring the automatic playlist, press the New button, and the created playlist appears in the Playlists section.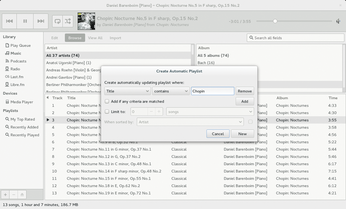 Figure 6: Creating an automatic playlist.
Rhythmbox also can handle Internet radio streams and podcasts. The player comes with a handful of radio stations accessible in the Radio section (Figure 7). To listen, select the desired genre and double-click on one of the stations. The application makes it easy to add other stations, too, by pressing the Add button and entering the URL for the radio stream (you can usually find it on your favorite radio station's website). Finally, press Add, and Rhythmbox automatically adds it to the appropriate genre.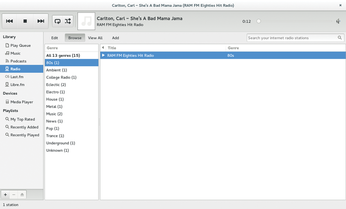 Figure 7: Rhythmbox manages Internet radio stations for your listening pleasure.
Adding podcasts is equally easy by switching to the Podcasts section under Library and pressing the Add button (Figure 8). You can then use the Search feature to find your favorite podcasts and subscribe to them. Alternatively, if you have a direct URL to the desired podcast feed, you can enter it into the search field and subscribe to the podcast.
Figure 8: Subscribing to podcasts in Rhythmbox.
Watching Videos and DVD: Totem Movie Player
Being a rather simple application, the Totem movie player (Figure 9) is very easy to master. To stream a video off the web, choose Open Location from the Videos menu at the top on your Desktop and enter the URL of the desired video stream. To play a local video file, choose Open from the main menu. The player allows you to add multiple video files to a playlist and arrange them to your liking.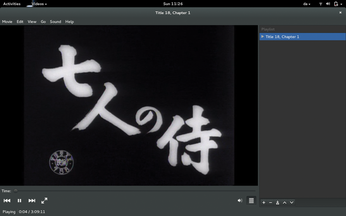 Figure 9: Watching video files and DVDs with the Totem movie player.
With the use of other commands in the Videos menu, you can switch to fullscreen mode (you can also do this by pressing the F key when the viewing window is selected), as well as to repeat and shuffle videos. To play a DVD, just insert it into the DVD drive and choose Videos when prompted. You can then use the command in the Go menu to navigate the DVD. All in all, the Totem movie player is rather straightforward to use, so you shouldn't have any problems mastering it.
comments powered by

Disqus
Visit Our Shop
Direct Download
Read full article as PDF:
News
Both projects help organizations build their own containerized systems.

Mark Shuttleworth has resumed the position of CEO of Canonical.

Microsoft's open source code hosting platform CodePlex will come to an end after a more than 10-year stint.

Comes with Gnome 3.24

The bug was introduced back in 2009 and has been lurking around all this time.

The new release deprecates the sshd_config UsePrivilegeSeparation option.

Lives on as a community project

Five new systems join Dell XPS 13 Developer Edition that come with Ubuntu pre-installed.

The Skype Linux client now has almost the same capabilities that it enjoys on other platforms.

At CeBIT 2017, OpenStack Day will offer a wide range of lectures and discussions.