Fedora 20 Desktop Edition and LXDE Spin
Fedora 20 Desktop Edition and LXDE Spin
The double-sided DVD included with this issue comes with two powerful Linux distributions from the Fedora family:
Fedora 20 Desktop Edition – The standard full-featured Fedora intended for end-user systems [1].
Fedora 20 LXDE Spin – A special version of Fedora designed for older systems with fewer hardware resources and slower processors.
We recommend you start with the main Fedora 20 Desktop version if your hardware supports it [2]. The Fedora project lists minimum requirements of a 1GHz or faster x86-class processor, 1GB of system memory, and 10GB of hard drive space [3]. See the Installation article on page 8 for more on installing Fedora 20.
If you have a smaller system that does not meet the Fedora minimum requirements, or of if your system barely meets the minimum but runs slowly on the full version, try the Fedora LXDE spin. See the article on page 34 for more on LXDE Fedora.
The Fedora 20 Desktop Edition on this DVD is intended for 64-bit systems. The article on page 8 has information on obtaining a 32-bit version. The LXDE Spin is for 32-bit systems. If your computer has a 64-bit system, you probably don't need the LXDE Spin, but a 64-bit version of the LXDE Spin is nevertheless available from the Fedora project [4].
What's in Fedora
The Fedora 20 DVD comes a wide range of applications to support a rich and rewarding user experience. Many of the applications included in Fedora are named for the tasks they perform. For example, the weather application is simply called Weather. Weather allows you to configure one or many locations, and it provides a simple forecast of the weather for the next few days. The Maps application provides an interactive world map – using OpenStreetMap [5] data – to plan trips or just travel the world without leaving the comfort of a desk. The Clocks application provides many time-based features, such as a world clock to see the current time in different countries, a stopwatch, and a countdown timer (Figure 1).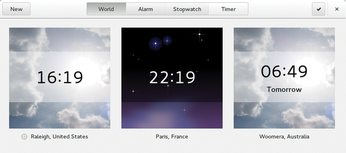 Figure 1: The world clock feature in Fedora's Clocks application.
Manage your photos with the Photos app or the more powerful Shotwell [6]. Manage your music with Rhythmbox [7]. Other articles in this special edition describe many of the important tools included in Fedora 20. See the Table of Contents on page 4 for more on the applications described in this issue.
With the Contacts application, you can manage a list of people, their email addresses, phone numbers, and any other important information. Contacts is part of the Evolution mail and personal information management suite included with Fedora [8]. In addition to mail and contacts, Evolution also features a calendar to manage your tasks and appointments.
Use the LibreOffice office suite [9] for creating documents, presentations, and spreadsheets (Figure 2). However, Fedora is not all work and no fun. You will also find a delightful collection of games, including the AisleRiot [10] solitaire application, which features more than 50 variations of single-player card games, including: Klondike, FreeCell, Bakers Dozen, Spider, and Accordion. As you will learn in this issue, Cheese is an application that uses the webcams built in to most laptops to take photos and videos and apply amusing and creative effects like distortions and color changes.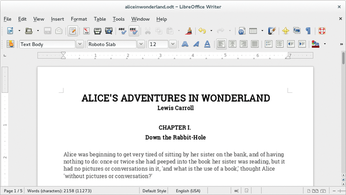 Figure 2: Create documents with LibreOffice Writer.
The Software application included in Fedora is also very important, and as the name suggests, you use it to browse and install new applications that are not included in the default installation. Important updates to Fedora are also delivered using Software. In addition to the applications included on the DVD, Fedora features thousands of other free and open source applications that can be installed using Software.
The first side of the DVD contains the default Fedora installation, which is based on the Gnome Desktop environment. Side two of the DVD contains another version of Fedora based on the LXDE desktop environment. LXDE is a lighter weight desktop that will perform better on older computers.
comments powered by

Disqus
Visit Our Shop
Direct Download
Read full article as PDF: