Using Shotwell to manage photos
Photo Manager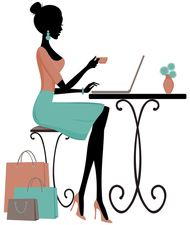 We show how to use the Shotwell app to process, retouch, and organize your photos.
Whether you are an avid enthusiast photographer or just a casual shutterbug, you need a tool that can help you to manage your photos. And, Fedora has exactly what you need: the Shotwell photo management application [1]. Although Shotwell is not the most advanced tool of its kind, it offers all key features essential for importing, organizing, and tweaking photos. More importantly, the application sports a user-friendly interface that significantly reduces the learning curve.
Importing Photos
Shotwell lets you import photos from different sources, including local folders, external storage cards, and digital cameras connected to your machine. When you launch Shotwell for the first time, the application automatically imports all photos found in the Pictures folder (which also acts as Shotwell's library folder).
Of course, you can also import photos from other folders, too. To do this, choose File | Import From Folder and select the directory containing the photos you want to import. You can then choose to copy the photo files to your library folder or to import them without copying the files. The former option is better for keeping all photos neatly organized into a single collection, whereas the latter can come in handy if you prefer to keep photos in their original locations. Press the appropriate button and wait till Shotwell finishes importing photos. Keep in mind that, depending on the size and number of photos, the import action can take some time.
Instead of using the File | Import From Folder command, you can add photos by simply dragging and dropping them from a file manager onto Shotwell's main window. To bypass the import dialog, press and hold the Ctrl key when dragging the photos to copy them to the library, or use Ctrl+Shift to add photos without copying.
Importing photos from an external storage (a memory card, a USB stick, etc.) is equally straightforward. You can use File | Import From Folder and select the desired folder on the external storage device, or you can drag and drop photos from the folder onto Shotwell's main window. To import photos from a camera, connect it to your computer, and Shotwell should automatically detect and display it in the left sidebar. Select the camera in the sidebar and click Import All. Alternatively, select individual photos and hit Import Selected.. By the way, in addition to photos in the JPEG format, Shotwell can handle RAW files – a boon if you prefer to shoot in RAW format.
Viewing and Organizing Photos
Shotwell features an unobtrusive interface that puts all essential tools at your fingertips (Figure 1). The left sidebar shows a hierarchical tree containing several nodes and items: Library (the root folder), Last Import (photos from the most recent import session), Events (photos organized by date), Folders (imported folders), Tags, and Trash.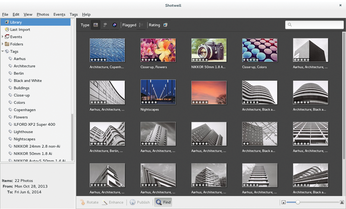 Figure 1: Shotwell's user-friendly interface puts essential tools at your fingertips.
You can drill down a node by expanding it and its sub-nodes. For example, if you want to view photos taken in May 1999, expand the Events node, then expand the 1999 sub-node. Then, select the May sub-node to view all photos taken that month (Figure 2). Like any photo management application worth its salt, Shotwell supports tagging, and it automatically detects tags in photos during import. The Tags node contains a list of all detected tags. To view photos containing a specific tag, select it in the list.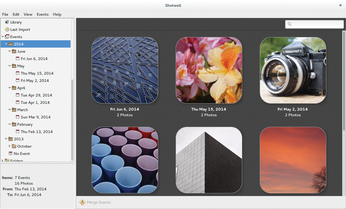 Figure 2: Shotwell automatically groups photos by date.
The working area shows thumbnails of the current selection of photos as well as individual photos. You can use the slider in the lower-right corner of the main window to adjust the thumbnail size. Alternatively, you can adjust the thumbnail size by pressing and holding the Ctrl key and scrolling with the mouse scroll wheel up and down. When you select a thumbnail, you can see the basic photo information in the lower-left corner of the main window.
To view more detailed info about the selected photo, choose View | Extended Information (or press Ctrl+Shift+X). This opens the Extended Information window containing additional info, including focal length, exposure bias, and geographical coordinates (Figure 3). The View menu has other useful commands, too. You can change the sorting order of the photos and events using the Sort Photos command. You can choose to sort photos by title, date taken, and rating, as well as switch between ascending and descending sorting order.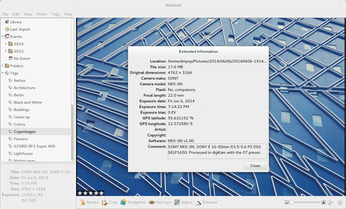 Figure 3: Viewing extended photo information.
The right-click context menu gives you access to several useful commands. The Add Tags and Modify Tags commands, for example, let you assign new tags to the selected photo as well as edit existing tags. The Flag command can come in handy for marking your favorite photos. When you flag a photo, Shotwell adds the Flag item to the left sidebar, which gives you quick access to all flagged photos. Using the Set Rating command, you can assign star ratings to photos. Besides ratings, you can mark photos as unrated or rejected. Marking a photo as rejected hides it.
The toolbar at the top of the working area offers several tools for displaying photos matching specific criteria (if you don't see the toolbar, you can show it by choosing View | Search Bar). Using buttons in the Type section, you can include or exclude specific file types from viewing. For example, press the RAW photos button if you want to exclude RAW files, and press the button again to include them.
The Rating drop-down list lets you display photos with specific ratings (e.g., three stars and higher). Here, you can also choose to display rejected photos. The toolbar also features the Search field, which makes it possible to find photos by their titles, descriptions, and tags. The search works in real-time, so the application automatically shows matching results as you type.
Shotwell has another clever feature called Saved Searches. Using it, you can define advanced searches that act as views (Figure 4). For example, you can create a saved search that shows all photos containing the word Tokyo in the title, tagged with the architecture tag, and rated three stars and higher. To do this, choose Edit | New Saved Search, give the search a descriptive name, then define search rules as shown in Figure 4. Press OK to save the search, and you should see it under the Saved Searches node in the left toolbar. Select the created saved search to view the matching photos.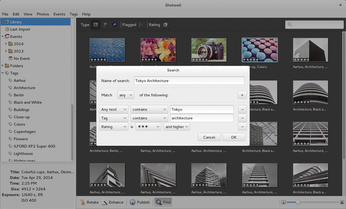 Figure 4: Defining a saved search.
Editing and Sharing Photos
To retouch a photo, double-click on its thumbnail or select the thumbnail and press Enter. This action opens the photo in full view with an editing toolbar at the bottom. The selection of editing tools in Shotwell is rather limited, but it does include essential features like rotate, crop, straighten, and red eye removal.
Shotwell also provides two tools for retouching photos. The Enhance feature can be used to automatically improve the currently edited photo. It doesn't provide any control at all, but it usually does a decent job of enhancing photos. The Adjust tool is suitable for more precise tweaking, and it lets you control several parameters, including exposure, saturation, shadows, and highlights (Figure 5).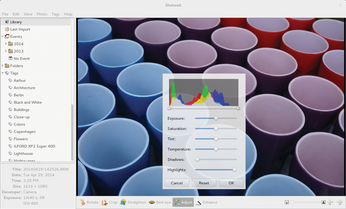 Figure 5: Using the Adjust tool.
If the available tools don't meet your needs, you can configure Shotwell to open photos for processing in an external application such as GIMP. To do this, choose Edit | Preferences, switch to the External Editors section, and specify the desired applications for processing photos and RAW files. Once you've done that, you can push the currently selected photo or RAW file to the specific application using the Open With External Editor or Open with RAW Editor commands under the Photo menu.
Shotwell supports so-called non-destructive editing, which means that none of the editing actions are applied directly to the photo. So, if you decide to revert the photo to its original state, simply choose Photo | Revert to Original. You can save the edited version of the photo by exporting it via the File | Export command.
Shotwell also makes it easy to publish photos with third-party photo sharing services, including Flickr, Facebook, Picasa Web Albums, and Piwigo (Figure 6). To push the currently selected photos, choose File | Publish and select the desired service from the Publish photos to drop-down list. If you selected Flickr, you'll need to log in to the service. To do this, press the Login button and authorize Shotwell for use with Flickr.
Figure 6: Shotwell lets you publish photos on Flickr and other photo sharing services.
Once you've done that, copy the provided authorization number, paste it into the Authorization Number field in the Publish dialog window, and press Continue. Then, you can specify visibility settings and photo size. You can also remove all identifying information from the photos by ticking the appropriate check box. Press then the Publish button to push the photos to Flickr.
comments powered by

Disqus
Visit Our Shop
Direct Download
Read full article as PDF:
News
Both projects help organizations build their own containerized systems.

Mark Shuttleworth has resumed the position of CEO of Canonical.

Microsoft's open source code hosting platform CodePlex will come to an end after a more than 10-year stint.

Comes with Gnome 3.24

The bug was introduced back in 2009 and has been lurking around all this time.

The new release deprecates the sshd_config UsePrivilegeSeparation option.

Lives on as a community project

Five new systems join Dell XPS 13 Developer Edition that come with Ubuntu pre-installed.

The Skype Linux client now has almost the same capabilities that it enjoys on other platforms.

At CeBIT 2017, OpenStack Day will offer a wide range of lectures and discussions.