CeBIT Open Source Project Lounge -- EGEE
EGEE - Enabling Grids for EsciencE
By
EGEE is among the 15 projects that will present their work at CeBIT. Initiated by the European Union, the project has created a worlwide infrastructure of computing clusters.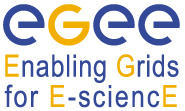 In a nutshell - how would you describe your project in a few words?
EGEE has built a worldwide infrastructure of computing clusters in which currently around 150,000 CPU cores in 260 computer centers run over 330,000 programs daily. Almost all systems run under Scientific Linux, their interaction coordinated through gLite open source middleware.
When did the project begin?
The EU project Enabling Grids for E-sciencE (EGEE) began its work May of 2004. It is supported by the various research work of the European Data Grid project that got its start in 2002.
How many active members does the project have?
In development and infrastructure operations, as well as work on the associated grid middleware, more than 9,000 man-months have been invested over the two years of the current project phase. There are 14,000 registered users worldwide.
How did the project come about?
The EGEE initiative emerged out of the recognition that the processing of huge amounts of data from the various scientific research branches requires a distributed, coordinated working and commonly usable computing infrastructure. In this way the experiments at the Large Hadron Collider in Geneva alone produce between 10 and 40 Petabytes of data, which needs to be accessible at any moment by many thousands of researchers who require the applicable computing resources at hand for their repeated operations. The European Union invested significant resources in creating and maintaining the infrastructure and software environment.
What would make a CeBIT visitor interested in your booth?
The EGEE infrastructure is seen today by many as the "real existing" grid. A visit to our booth would provide insight into how this grid functions and the applications that are relevant for such an environment.
Who do you make your software for?
The software is primarily used for scientific research, but is provided free under Apache licensing for any interested party.
Where do you see your biggest current challenge?
It seems necessary for the successful further development of the gLite middleware that a broad user and developer community apart from core users from the scientific realm are involved.
If you were to hire a full-time project developer now, what problem should he or she be ready to solve?
To disseminate the concepts implemented in gLite based on the demands of the established scientific user community.
Under which license is the software currently offered?
Apache License, version 2.0.
Internet adress: http://www.eu-egee.org (see also http://gridportal.hep.ph.ic.ac.uk/rtm).
comments powered by

Disqus

Issue 198/2017
Buy this issue as a PDF
Digital Issue: Price $9.99

(incl. VAT)
News
Both projects help organizations build their own containerized systems.

Mark Shuttleworth has resumed the position of CEO of Canonical.

Microsoft's open source code hosting platform CodePlex will come to an end after a more than 10-year stint.

Comes with Gnome 3.24

The bug was introduced back in 2009 and has been lurking around all this time.

The new release deprecates the sshd_config UsePrivilegeSeparation option.

Lives on as a community project

Five new systems join Dell XPS 13 Developer Edition that come with Ubuntu pre-installed.

The Skype Linux client now has almost the same capabilities that it enjoys on other platforms.

At CeBIT 2017, OpenStack Day will offer a wide range of lectures and discussions.