MisterHouse is an active, community-driven, open source home automation project
Subscribing to a Wild Card Topic
Subscribing is as easy as publishing (Listing 5), though you will need to use Ctrl+C to end the subscription. The subscribe command is similar to the publish command, with the exception that you get to see what other applications have published to the topic you've subscribed to.
Command-Line Subscription
In Listing 5, I subscribed to everything using the wildcard. For the initial setup, this is fine as only a few things are being publish. Because there are only a few topics, this won't be a problem. If, however, you start publishing to lots of different topics or the topics get updated too often, this approach will become unmanageable pretty quickly.
The home/ha/text/x10/1 is being published every five minutes by MisterHouse (see the user code for that in the mqtt.pl file). The first five lines should appear immediately. Then each new X10 update should occur every five minutes.
The Future, MisterHouse, and You
MisterHouse is definitely for those who are hands on and have that "do it yourself" mentality. If you don't know Perl but you are willing to learn, or even if you do, join the MisterHouse mailing list [6]. We'll help you with what we can. After using MisterHouse for a short while, I think you'll agree that it is extremely powerful and flexible. The future is really only limited to your imagination. I've watched users figure out all sorts of ways to take advantage of products and services that were not intended to play nicely together, then take a bit of code, and integrate everything together into MisterHouse to add the features it originally lacked.
Figure 2 shows a screen shot of the V4.x default web pages. The new framework takes advantage of newer technologies such as Ajax or WebSockets. Further work is underway for a newer floor plan, which will provide a more responsive interface to events. Additional projects, like Bruce's Voice Control with a smartwatch [7], voice control with Amazon Echo, my Firmata module, and various cloud services should allow MisterHouse to integrate more of the latest technology, while still giving the user control of information and devices.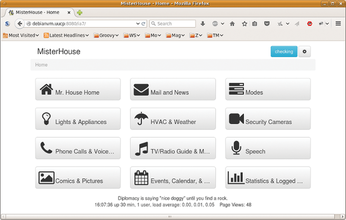 Figure 2: V4.x main MisterHouse web page.
comments powered by

Disqus
Visit Our Shop
Direct Download
Read full article as PDF: