FOSSPicks
Persepolis
It's been a while since we needed to consider using a download manager. Back in the olden days of slow and non-perpetual Internet, download managers were a necessity, because they helped you resume broken downloads, automate sets of downloads, and automatically pipe different kinds of downloads to different local folders. In the modern era, very little of this is necessary, because we no longer depend on offline storage. A lot of the time, when you can't find your saved version of a file, you can just download it again – regardless of how large it might be. However, we think there is still a place for a download manager, and Persepolis is a great reason to revisit this old style of application, especially if you haven't used a download helper for a while.
The great thing about Persepolis is that it can help with modern download problems, such as downloading a video or music file from a popular streaming site (as long as it's legal, of course). A remote file's URL can be dragged and dropped into the main window; from there, you can decide where each kind of file is saved. Just like with downloaders of old, you can configure multiple concurrent sessions to speed up old downloads and, inversely, limit their speed if you need to reserve some bandwidth. You can even schedule a download for a more convenient time, which is useful if you're currently working on a machine but would like something downloaded for later. Finally, the whole application does a great job of matching your desktop aesthetics and even beats KGet for desktop integration within KDE, albeit without the menu and panel integration.
Project Website
https://github.com/persepolisdm/persepolis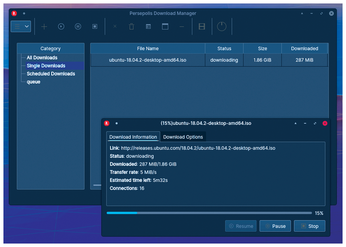 Another great feature of Persepolis is that it's cross-platform, so you can use the same tool on Windows and macOS if you need to.
Markdown presentations
Marp
One of the best presenters we've seen is Damian Conway of Perl fame. And one of his best presentations is called Presentation Aikido. It's a presentation about the fine art of presenting technical information to a wide audience. Alongside advice, such as only talking about what you know, being passionate about your subject, and simply letting yourself be yourself, is the idea that your presentation needs to be "stylish." What's most surprising about this last point is that Damian doesn't use the latest version of Apple's Keynote for his presentations – he uses Vim. His style has nothing to do with awesome transitions or animated GIFs, but with the clarity and responsiveness of the presentation, and his famed proficiency at Vim helped him to accomplish this and be himself.
For those of us who aren't yet masters of Vim, there are still plenty of options that allow that presentation clarity and responsiveness, without requiring a PR-designed deck running off PowerPoint. And Marp is one great contender. Marp is a presentation writer that ingests Markdown, much like any Markdown editor, but with its own clean CSS framework, UI preview, and command-line interface, making it perfect for technical presentations. Slides are automatically split between top-level headers, for instance, and positioning the cursor between headers automatically relocates your position within the deck. Edits appear in real time, and Markdown does everything you need for clear and efficient presentations. Lists, themes, screen ratios, three preview modes, and emoji, math symbols, and background images are all supported. It's a brilliant way to work, especially if you're happy tinkering with your presentation as you make it – and if not, the clean PDF export is perfect for clicking through and for printed notes.
Project Website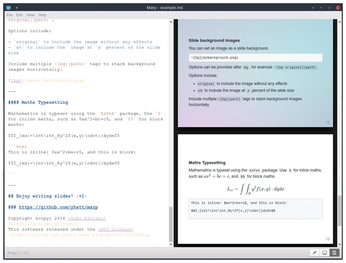 Marp is currently being rewritten to integrate with the hugely popular Visual Studio Code editor.
comments powered by

Disqus
Visit Our Shop
Direct Download
Read full article as PDF: