FOSSPicks
GUI Git client
GitQlient
If you're looking for a slightly more ambitious Git GUI than the excellent Guitar (above), GitQlient can be a great option. In particular, it's considerably faster, especially when dealing with larger projects, and can open more than one project at a time. We tested this with a local Git clone of the Ardour DAW repository, which is a large project with thousands of commits over its 15 year history. Parsing this history took Guitar around 60 seconds on our system, while GitQlient took less than 5 seconds. To be fair, GitQlient appears to only load enough commits to populate the list view until you scroll down (as most apps should), but it shows that it's a potentially more ambitious tool developed to be used with larger projects.
The ambition in GitQlient is also evident in one of its best new features – the ability to have multiple repositories in the same view. This could be useful when working with a fork, for example, or porting one set of features across to another project. The main view shows the commit graph, much like Guitar, but you need to double-click a commit to see the diff. Disappointingly, the diff is presented as the colored raw diff data rather than a side-by-side view of the original and changed state. However, you can have more than one commit diff open at once, making them easy to switch between. The main view also shows local and remote branches, tags, submodules, and even stashes. The first entry (pre-commit) also displays untracked, staged, and unstaged files. These are going to be of more use in a mature project, and it's a great way of diving back into a project or understanding its recent progress. When you do commit and push code, you can choose to enable auto code formatting and easily amend a commit after it has been made.
Project Website
https://francescmm.github.io/GitQlient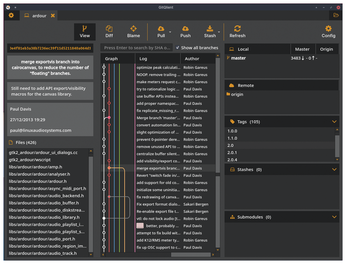 GitQlient is a fork of QGit with the old code and UI overhauled.
DNS ad-blocker
comments powered by

Disqus
Visit Our Shop
Direct Download
Read full article as PDF: