Beyond FUDCON: Meet Fedora Ambassador Larry Cafiero
Feb 11, 2011
Launched last week, Beyond FUDCon highlights the Fedora community and project. This week we look at the Fedora Ambassador Program through the eyes and experience of Fedora Ambassador, Larry Cafiero.
"

Fedora Ambassadors are experienced contributors to the Fedora Project who are responsible for representing, promoting, and expanding the Fedora Project and its ideals to the larger F/LOSS community and the public at large. - Fedora Ambassador Wiki

"
Linux Pro Magazine: How and when did you get involved with open source? What was your first Linux distribution? If it wasn't Fedora when did you begin using Fedora, and why?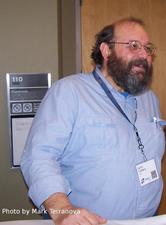 Larry Cafiero at FUDCon Tempe 2011
Larry Cafiero: You may want to grab a cup of coffee because these three questions require somewhat long answers.
As for how and when: I was the Green Party's candidate for Insurance Commissioner in California in 2006. During the campaign, I was faced with spending a lot of money on software, and the Greens don't take corporate donations, so I was at a disadvantage there. I bemoaned the fact that I was going to have to spend a couple of thousand dollars on Adobe products -- Photoshop, Illustrator, etc. -- to Cameron Spitzer, who is the Greens' IT guy in California and the man who is responsible for me being a FOSS advocate, and he said something to the effect of, "You don't have to buy anything," before explaining the philosophy and benefits of Free/Open Source Software. After the campaign, I kind of took a larger interest in FOSS and what it has to offer society.
My first Linux distribution was Debian, and I still like Debian a lot. I still use it because, in my opinion, it works best on PowerPC architecture -- I should mention that I was a Mac guy before converting to GNU/Linux and FOSS. I still have the flavored iMac on which I did my first Linux install in my lab at Redwood Digital Research, which still runs the same Debian install from a little over four years ago.
I started using Fedora for both an interesting and a superficial reason. Tod Landis, formerly of Borland and a friend of mine in the San Lorenzo Valley at the foot of the Santa Cruz Mountains, develops a program called dbEntrance, which is an open source Java-based MySQL browser which I think is pretty cool. Anyway, I volunteered to help him with bugs and such -- with the purpose of getting the program into the Linux realm -- and dbEntrance seemed to work better on a Fedora box I had set up. The second, and superficial, reason was that Fedora 7 looked so great on my desktop that I decided to stay with it as my main distribution.
LPM: How long were you involved in the Fedora Community before your became an ambassador?
LC: My entire participation in the Fedora Project, which started in 2008, comes as a result of being an Ambassador. My interest in FOSS sent me back to school and as a student at Cabrillo College, where I helped organize the Cabrillo GNU/Linux Users Group. Karsten Wade, Red Hat's Community Gardener, was invited to give a presentation on Fedora, and afterward I told him I'd be interested in being an Ambassador. The rest, as they say, is history.
LPM: What are the requirements for becoming a Fedora Ambassador?
LC: At one time, the only requirements were that you were conscious, you had a pulse and regular breathing. In many cases, that meant people would sign up, get an Ambassador Kit and then we'd never see them again -- it was a ruse to get swag. Now there are requirements that need to be met: You can still sign up to be an Ambassador just like the past, but now you have some things you have to perform. It's not like we ask for someone to bring us a shrubbery, but there are certain criteria you have to meet. This includes having a wiki page, having a plan about how you want to promote Fedora, participating in biweekly IRC meetings, and so on. Usually, I spring one last requirement on those candidates I mentor before approval: You have to wash my car. But obviously I don't hold them to that.
LPM: How is the Fedora Community organized? Are there Fedora teams in each state and country, for example?
LC: As far as Ambassadors are concerned, the program is broken down into regions: FAmNA (Fedora Ambassadors North America -- which is really English/French speaking North America, meaning just Canada and the US); LATAM (Latin America, from Mexico south, joined moreso by language than geography); EMEA (Europe Middle East Africa); and APAC (Asia Pacific, which includes Asia and Australia). All of this is governed by a steering committee called FAmSCo (Fedora Ambassadors Steering Committee, of which I am the sole North American member). This might seem very broad, but it seems to work well.
LPM: What is the relationship between the Fedora Community and the Red Hat Community? How are they similar, how are they different?
LC: I don't think there's a "Red Hat Community" as we know it, since Red Hat is a corporate entity providing Linux and support, but there very well could be. I would imagine that if there were a Red Hat community, it would be guys in suits hacking away, but I digress.
If you're asking about the relationship between Fedora and Red Hat, the Readers Digest version of the story is that the innovation that Fedora comes up with -- and there is a lot -- under Red Hat's sponsorship benefits Red Hat by finding its way into Red Hat Enterprise Linux, which obviously is a product that Red Hat sells and supports. Fedora benefits in this relationship, of course, through Red Hat's sponsorship and support, so it's sort of a never ending circle.
LPM: Who governs the Fedora Community?
LC: I do. So do all the members of the community. There is a governance structure, of course, with a Fedora Project Leader -- Jared Smith -- and a Board, FESCo (Fedora Engineering Steering Committee) which oversees development, and FAmSCO (mentioned earlier), all of which keeps Fedora pretty much moving in the same direction. One of the things that makes the Fedora Project stand out is its transparency in processes, and it's a strength when people can openly disagree on issues to resolve them quickly. This is not to say that there are a lot of disagreements within the community -- I don't think there are any more disagreements in the Fedora Project than there are in any other large distro -- but on the whole I think Fedora handles them, when they arise, a lot better than most.
LPM: Are you involved with any local Linux/Fedora groups?
LC: In 2008, I formed the Lindependence Project with Ken Starks of Austin, Texas. You might remember that Ken tried to get Tux on a racing car in the Indianapolis 500 a few years back, and he how heads up the HeliOS Project in Austin, Texas. Ken does great things in Austin for kids, getting GNU/Linux boxes in the hands of underprivileged children. In any case, Ken and I took a page from the Nikon ad several years ago where the camera company gave a camera to everyone in a small town in South Carolina and had them take pictures with it. We wanted to do the same thing for Linux and we took Felton, California, and tried to convert the town to Linux. In subsequent years, Lindependence has been held in conjunction with Software Freedom Day and this year, we'll probably roll out another July event around Independence Day.
From Lindependence, we formed a very active Linux User Group in Felton, Felton LUG, of which I am a co-founder.
When I started using Linux and FOSS on a regular basis, I did a lot of distro hopping and, as a result, I joined a lot of groups like the Ubuntu California LoCo and such, and while I have been inactive for quite some time, I think I am still a member.
LPM: As an ambassador, what are going to focus on in Fedora 15?
LC: I'll probably focus on what the Marketing group tells me to. That sounds flippant, I know, but normally the Ambassadors get a laundry list of features with every release and after we try out the features, we're more qualified to talk about them. But we usually don't know until closer to the release -- or at least I don't, anyway. I am usually too busy fiddling with the current release to start thinking about the next one until the next one is ready to go out the door. People will tell you it would probably not be a good idea to get me started on how much I dislike the six-month release cycle, but that's another story.
LPM: What are the biggest challenges that you face as an Ambassador? How did you over come them?
LC: That's a difficult question, because there are not a lot of challenges externally in being a Fedora Ambassador. Probably the biggest challenge is making sure, as an Ambassador mentor, that my mentees -- or "manatees," as fellow Ambassador Mentor Clint Savage likes to call them -- stay focused and enthused about promoting Fedora. I speak a lot to groups about Fedora and FOSS and people are starting to "get it," and for the most part, FOSS essentially sells itself. Not only this, it's important to emphasize that we are all in this together -- by "we" I mean all of those who do the same thing Fedora Ambassadors do for their distro of choice -- and that each distro has advantages and detractors. In the end, people who use Linux and FOSS are going to use what suits them best, and that's a win for everyone no matter what distro they choose. So when people get into arguments or debate the merits of $DISTRO_1 over $DISTRO_2, it's the wrong argument. When one distro develops an advancement, we all benefit. It's like the Zen saying that all boats are lifted by the rising tide.

LPM: Are there any Linux Conferences/Summits/Fest you will be speaking or attending this year? If at what?
LC: I usually make all the West Coast events -- Southern California Linux Expo SCALE 9X (where I am a publicity co-chair, so "go to SCALE!"), Linux Fest Northwest, OSCON -- as well as some others west of the Rockies, like Utah Open Source Conference. With the exception of OSCON, I usually speak at all of these, on Fedora and on other topics. Also, after a Fedora release, I am usually all over the Silicon Valley and Northern California at LUGs and other groups talking about Fedora.
LPM: What do you do in your other spare time?
LC: Spare time? What's that?
LPM: What haven't I asked you about that you would like to share with readers?
LC: I mentioned Ken Starks earlier in an answer and I wanted to point out something about how we started working together and why we work together. Ken and I are probably the most divergently opposed people, politically speaking, you can imagine. In fact, he and I probably wouldn't even speak to each other if it wasn't for the unwavering commitment to FOSS we both share. It has become somewhat of a joke now -- Christian Einfeldt of the Digital Tipping Point filmed a segment during Lindependence 2008 on "Twin Brothers of Separate Mothers" -- but the underlying current that Ken and I can work together, despite our differences, speaks well of how FOSS brings people together.
More information on the Fedora Ambassador Program can be found on the Fedora Wiki pages and more information on Fedora Project can be found on the Fedora Website.
Comments
Greens distributing FLOSS

Thanks, Larry.
We've been distributing FLOSS at Green Party meetings and outreach events since '94, and got serious about it in 2003. The Green Party of Santa Clara formally endorsed the effort in '03, and FLOSS has been mentioned in the platform of the Green Party of the United States since '02. Most recently, we gave away a stack of Puppy Linux and Ubuntu CDs (and demonstrated Ubuntustudio) at the Women's International for Peace And Freedom Holiday Peace Fair here in Campbell. It's easier now, most folks have heard of "Linux" and are pleasantly surprised to see it's prettier, easier to use, and more comprehensive than they'd been led to believe. Some Live-CD or other is always in our tabling kit, wrapped in an explanatory flyer. Here's our current CD wrapper: http://greens.org/~cls/flyers/ubucd.pdf Print it on two sides and fold it up to fit in the CD sleeve, with "Trustworthy" on top.


One more thing . . .

First, thank you, Amber, for the interview. It was a delight and, hopefully, because I have a tendency to go on and on, people actually reached the end before falling asleep

I neglected to give credit to two people who also helped get Lindependence 2008 and Felton LUG off the ground:

Steve Rufle of Phoenix and his sons came up to Felton and gave a hand in the Lindependence event, and Steve, who markets Open Animals though openanimals.org (stuffed animals made with an open source pattern, licensed under the GPL), also has hosted the lindependence.org site for the last few years at his expense.

My good friend and Felton neighbor Bob Lewis, a retired AT&T and SCO engineer (back when SCO was in Santa Cruz, before it moved to Utah to become a litigation company), helped with the organization of Lindependence 2008 and subsequent local events (like the Felton Farmers Market's FOSS booth), as well as growing Felton LUG. Bob is a one-man evangelical whirlwind for Linux and FOSS in the Santa Cruz area, converting people of all ages to Linux and FOSS.

Thanks guys, and sorry I forgot to mention you two.

Larry Cafiero

Larry the Free Software Guy

Listen to Larry, he is telling the truth!

More than most Larry is putting the Open in Open Source.
comments powered by

Disqus
---
Support Our Work
Linux Magazine content is made possible with support from readers like you. Please consider contributing when you've found an article to be beneficial.
---