Zack's Kernel News
Distributing I2C Maintainership
Jean Delvare put out a call for someone to be his co-maintainer of the I2C subsystem. He'd been having trouble keeping pace with the rapid pace of patch submissions and figured perhaps another set of eyes would help. A couple of weeks later, he announced that Ben Dooks had agreed to take on the role, and he submitted a patch to the MAINTAINERS file including the new listing.
Time for Cogito Users to Switch to git
When Linus Torvalds wrote git, he was aiming for the equivalent of a "system call" layer for revision control. His application provided the very low level features for manipulating changes in a directory that met the needs he'd identified for himself after BitKeeper was no longer available. In fact, he saw git as an improvement over BitKeeper because it removed features he saw as unnecessary and enabled other features that BitKeeper hadn't been able to provide, like sane tagging semantics.
Right from the start, the git program was hard to understand because it didn't provide the kind of full-service features everyone expects from a revision control system. Instead of users just being able to type a single command to synchronize their repository with the one upstream, for example, they had to first "fetch" the changes from that repository and then "merge" them into their local repository with another command. Other less common actions were even more complex to perform. Linus did this to keep the operations flexible and powerful. They were not intended to be used as the front end to a repository. He expected and encouraged other people to script their own user-friendly commands on top of the git "system call" interface.
The first and most popular of the scripted interfaces to git was the Cogito application, and for a while, it seemed as though Cogito would become the main tool ordinary users would use in conjunction with git. It can be difficult to keep track of the status of these sorts of projects, but it now turns out that Cogito is no longer maintained, and git itself will provide both the back-end power layer and the friendly front end for regular users.
The git front end has actually been under development for a while and is called the "porcelain" layer. It provides a command set familiar to most version control users and relies on the lower level commands for its implementation. In the course of helping someone who'd had trouble with a git repository and had described the Cogito commands that had revealed the problem, Linus told him, "First off, you really should lay off the cogito thing, it's pretty much guaranteed that any cogito usage will just be harder and less likely to be correct than just using native git (and almost nobody will be able to help you any more – it's not like it's been maintained for the last year)."
With git providing its own front end and Cogito no longer maintained, it looks like anyone who's been relying on Cogito should switch to using git directly. Anyone relying on any other version control system should also switch to git. It's way cool.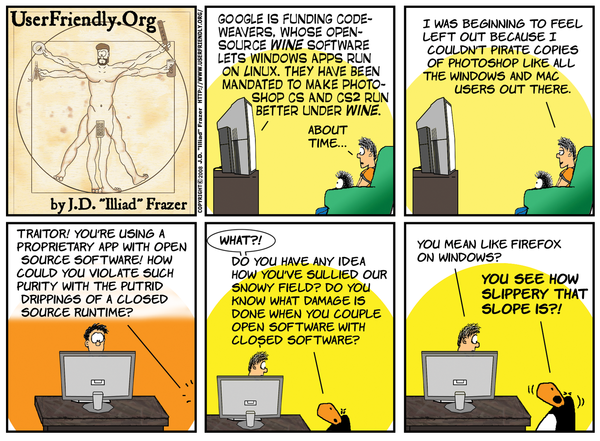 comments powered by

Disqus