Graham searches for the best new free software
Space Invaders
Voxeliens
This is a game that was originally proprietary and first available in 2012. Because of its nature and the way the development studio works, it has never been fully completed and never made it to a 1.0 release. In recognition of this, and the unlikelihood of the game being further developed by the original team, Voxeliens has been released as open source under an MIT license. This is great news for us, and great news for the project in general as I'd obviously much rather see its code being used than languishing in an unloved private repository.
The game itself is a modern interpretation of the ancient Space Invaders arcade game. The modern interpretation actually has more to do with the post-Minecraft world of 2012 than something truly modern like virtual reality, because like many other games of the 2012, it's a recreation of an old concept using voxels. Voxels, as used in Minecraft, are 3D pixels where the squares are not only positioned in an X and Y coordinate, they're also positioned along a Z axis for depth. In Voxeliens, you skim across a static voxel terrain while 3D pixelated aliens attempt to shoot you from above. It's just like Space Invaders with a Z axis and is equally playable. The 8-bit retro gaming sounds and quick action help recreate the old atmosphere, and even though you're moving across a 3D plane and can change the angle, the gameplay is fundamentally the same as the old classic. Which is a good thing. The aesthetics are lovely, and it's genuinely great news that all this is now available for use within your own projects, or for your own study.
Project Website
https://bitbucket.org/volumesoffun/voxeliens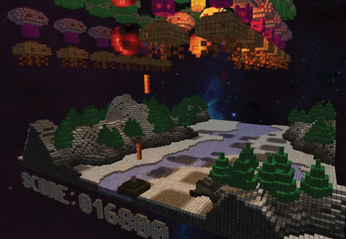 Study voxel graphics and great gameplay with the open source release of an old game.
Windows Emulator
comments powered by

Disqus
Visit Our Shop
Direct Download
Read full article as PDF: