Graham searches for the best new free software
Wine 2.1
There have been a couple of major updates to this incredible project recently. The first was the milestone 2.0 release, finally, after 23 years of development, quickly followed by the 2.1 release. The second is that Wine is no longer a recursive acronym for Wine is Not an Emulator. There's no further clue as to whether it's still an acronym at all. Wine is now just Wine. However, Wine attempts to do the same job it's been trying for decades – allowing you to run Windows and DOS software on your Linux box without a Windows or DOS installation or license. The supreme effort in reverse engineering those APIs and re-implementing them as open source equivalents deserves a lot of credit, and I'm incredibly grateful to the developers for keeping this project going. However, as many of us know, getting Windows applications to run on Wine is often hit and miss, and often complicated by playing with lots of different configuration options.
This release has far too many new features to list. It finally supports GStreamer 1.0. DirectX 3D 11 is getting very close to being usable. Shader Models 4 and 5 work. There's a new clipboard. Microsoft Office 2013 works, and more than 6,600 individual changes have been rolled into the codebase. You still won't find support for the latest games, but I've found most games from three-four years ago can be made to work, although this is negated somewhat by the GPU pass-through mode of some virtual machines, which is a better option if you have a Windows license. But for those many small utilities, often that accompany hardware, or for the many niche tools and applications that have never been ported to Linux, Wine is worth a try and can often work if you're not too ambitious. And, you don't have to opt out of all the Windows 10 spyware.
Project Website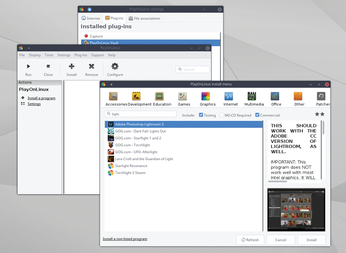 One of the best ways of getting software to work with Wine is to use the Play On Linux front end.
comments powered by

Disqus
Visit Our Shop
Direct Download
Read full article as PDF: