FOSSPicks
Mudlet 3.0
In the early 1990s, I spent some time at a college in the United States, and there were two brilliant things about being there at that time. The first was that the computer lab was open 24 hours a day, every day. The second was that local phone calls were free. This meant I could use a borrowed Amiga 1000 with a modem and the old "Term" application to dial into the lab computers and stay connected for as long as needed, all from my dorm room. I barely needed to get out of bed. This was, of course, a good way to work, but there was something far more compelling than my Modula-2 assignments, and that was playing MUD games.
The MUD genre, an acronym for Multi User Dungeon, is a combination of text-based interactive fiction with very early multi-user game mechanics, similar to the kind you now find in online role-playing games. They were popular at a time when text was all you could really transfer across a network in close to real time, and when text was all screens were good at displaying. Entering a MUD was a little like playing Dungeons & Dragons, where the dungeon master was the parser, describing the location, local items, and objects while allowing you to do things that might affect gameplay. The only difference is that you're not alone, and that specific instance of your universe is usually persistent. The lamp stays smashed until the server is reset.
Mudlet is the result of four years work and is a simple yet powerful portal into this MUD world. A simple click will give you immediate access to many of the still-popular MUDs people play, and serious players can augment their typing with mapping scripts and 3D maps, automation, notes, and many other advanced features. It's brilliant, it's easy to use, and if you've not tried playing a MUD for a while, it's also the perfect excuse to revisit a wonderful game type.
Project Website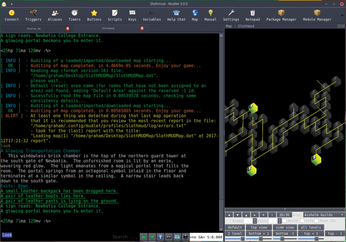 SlothMUD is 22 years old and is probably the most active MUD still running, maybe thanks to its 27,500 rooms and 9,300 creatures.
comments powered by

Disqus
Visit Our Shop
Direct Download
Read full article as PDF: