FOSSPicks
KWipe 2.1.3
A couple of caveats are needed before looking closer at this otherwise excellent tool. The first is that this is an application that requires root and wants to help you securely erase data. This is a noble and worthwhile endeavor. But, and this is important, there are no obviously official download sites, no package signing, no checksums for the download, and no third-party security audits. By running KWipe, you're running a Python script with root access and then asking it to clean your partitions of recoverable data. On the positive side, the code is Python and easy to read, so you can check to make sure it's doing what you hope it's doing, and it certainly offered no surprises when I used it.
KWipe is different from deleting your files in the usual way because it implements several different methods for scrubbing your drive/SSD of any last vestiges of a file. These methods have names like One, Zero, Gutman, Bruce Schneier Algorithm, British HMG Standard 5, Russian GOST p50739-95, and NSA 130-2. The way these work is well known and studied, and KWipe couldn't be easier to use. A list of devices and partitions appear on the left, and you select your target and a method before selecting the Erase button. It's about as simple an application as you could make, but the background process is multithreaded ,which helps improve the speed, and you don't really need many more options. If you want to check the veracity of the erasure, you need to use another tool, such as Testdisk. KWipe performs an important job, but it should only be used with caution. I'd recommend only when donating/selling drives, and from a Live CD on a machine with nothing else. If this is something you do all day, KWipe is going to make your life easier.
Project Website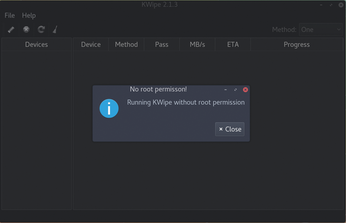 Used with caution, KWipe is an excellent tool for making sure your deleted data stays deleted.
Photo Importer
Rapid Photo Downloader 0.9
The RAW photo processor, Darktable, has become an integral part of many photographer workflows. It's brilliant at improving an image or recovering an image from unexposed/overexposed disaster. But, it's not great at photo management or at importing photos from various locations. This has obviously not been an emphasis for Darktable, and with good reason – Linux needed an Adobe Lightroom replacement much more than it did another photo album generator. This also means that many users resort to other applications, such as digiKam, to handle their photo import and management duties, keeping them from spending more time in Darktable.
Rapid Photo Downloader is perhaps the best possible solution to this, allowing you to avoid a second or third photo application while not having to rely on Darktable for import and management. The tool's name tells you everything you need to know. With Rapid Photo Downloader installed, you can quickly import hundreds of photos off your camera or memory card and into organized folders on your local drive. This is in complete contrast to many other applications that often leave you enough time to make lunch and brew a cup of tea during the import process. The main window shows good-sized thumbnails of even large RAW files quickly and makes their formats easily discernible. There's no editing or processing or larger previews, which is perfect for this simple process. The clever part is that each import job can be customized by tagging photos with "job codes," which can then be used to define subfolder and file names during a renaming process. It's quick to set up and does exactly what many users need when juggling hundreds of photos on an SD card – organize new photos into folders by date and a descriptive tag or two – essential if you're doing any serious photography with Linux.
Project Website
http://www.damonlynch.net/rapid/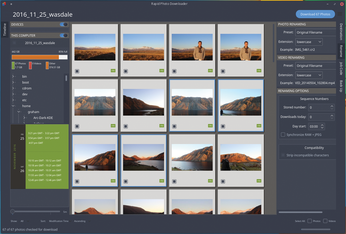 Importing photos from external devices can be automated by enabling the option in the preferences panel.
comments powered by

Disqus
Visit Our Shop
Direct Download
Read full article as PDF: