Graham tears himself away from updating Arch Linux to search for the best new free software.
FreeOrion 0.4.7
Linux may not have Elite Dangerous, but we do have several turn-based, space empire, domination type games that potentially have more depth, and FreeOrion could be the best. It's based on a game called Master of Orion, originally released in the early 1990s by Microprose for the PC. Although it's based on similar ideas, FreeOrion is not a clone or remake; it's just similar in gameplay and visual style. It has also been in development for a long time, which means the complexity and design is a little more advanced than other open source titles, even if the game is still incomplete. Small things, like the rotating planets or the parallax star fields, make you feel like you're playing a game that the developers have put their passion into, which is reason enough to give it a go.
If you're a new player, getting into the game can be difficult. You're definitely going to have a better time if you've played this type of game before, because there's a lot of complexity behind every element and decision. Both the in-game help and the wiki will help if you put in the effort. Essentially, you deploy your initial race and build your empire from the home system. You have control over all of this in the beginning when you create a game, balancing things like system times and other attributes against risks. You can develop industry or technology, using research to improve technologies. In this way, you can do things like unlock defensive or offensive capabilities. You start with different fleets for attacking, colonization, and exploration into adjacent unknown systems, all the time using a credit system built on turns to control the speed of the game, along with the hunt for resources and opportunities for colonization. You build up your power and plan things like an invasion against an alien fleet or valuable system, or simply defend your colony against a monster attack.
Project Website
http://www.freeorion.org/index.php/Main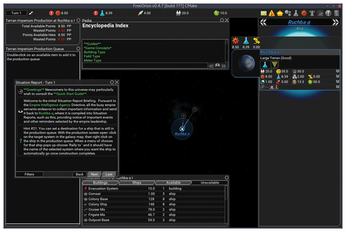 FreeOrion is great fun as a single player playing against the AI, but nothing beats playing against real(ish) humans.
comments powered by

Disqus
Visit Our Shop
Direct Download
Read full article as PDF: