Graham tears himself away from updating Arch Linux to search for the best new free software.
Ardour 5.9
In contrast to Helio Workstation (see above), Ardour is of course the behemoth of digital audio mastering and recording for Linux, Mac, and Windows. It's open source, but it's an amazing application that's worth spending money on. Ardour development is driven almost entirely by such payments, and even a minimal outlay will give you access to an entire generation of upgrades (e.g., every release of Ardour 5.x). This will in turn help the Ardour community. This release, version 5.9, takes us very close to the 6.0 update, and potentially lots of lovely new features, which is why supporting Ardour is so important. As with previous versions, however, this doesn't mean point releases like this are insignificant.
Ardour 5.9 represents the best of this major release cycle. It's full of small fixes, including sensible shortcuts for gain grouping, better color choices, and an updated theme. But it's also full of small additions. There's new MIDI controller support, more OSC commands, better VST plugin support, and parameter mapping. This version also works well without launching Jack. This is important because not everybody has a setup that requires the complexity of Jack, and it's often a hindrance to quickly launching Ardour for a quick recording or edit – something you want when inspiration strikes (or you're late for the podcast). We use Ardour to record, edit, and master our Linux Voice podcasts, and it's supremely capable, more so than many expensive DAW applications for other operating systems. In particular, you can side-chain an effect within a channel strip and actually see the results in the compression effect. This is brilliant and powerful, and although it's difficult to set up and initially understand, it gives you the ultimate control over your recordings.
Project Website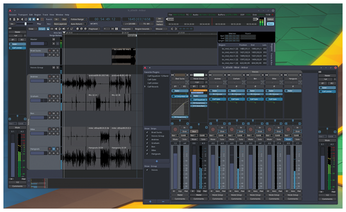 Paul Davis, the principle developer behind Ardour (and Jack!), uses contributions to the project as his main source of income.
Image mangler
Audio Shop
When it comes to explaining various aspects of audio, I've always found it easier to talk in terms of images rather than sound. This is obviously easier for people to visualize but it's also because many of the concepts that apply to images and image processing have analogous concepts and processes in the realm of audio. And it's not that they're both fundamentally about waves. Sample rate, for example, is the same as image resolution. The sample depth – 16- or 24-bit, for example – is analogous to the bit depth of an image, whether that's 8, 16, 24, or 32 bits. Low-resolution samples are the same as low-resolution images. Analog to digital converters often perform the same function, and the examples go on.
Robert Foss's Audio Shop scripts are based on this same idea, only they put that idea into practice. Using ffmpeg, ImageMagick, and SoX, Audio Shop lets you mangle image data with SoX's audio processing tools, so you can not only actually see what kind of effect they have on an image but also process images in weird and unusual ways. All the script is really doing is convincing ffmpeg to change the format of the image data into one that could potentially be audio, processing that data as audio, before then asking ffmpeg to save the data into a PNG image file. If each color channel in an RGB image uses 8 bits, this is processed as 8-bit unsigned audio data. There are 12 effects to choose from, including bass and pitch effects, phaser and flange effects, echo, and loudness. Each effect is taken from SoX and takes the same parameters, and the output is similar to what you may see if you've ever experienced synesthesia.
Project Website
https://github.com/robertfoss/audio_shop/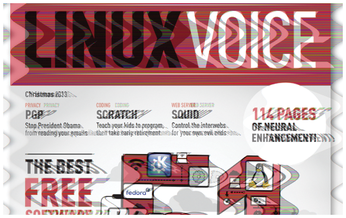 Process images as if they were audio with Audio Shop.
comments powered by

Disqus
Visit Our Shop
Direct Download
Read full article as PDF: