FOSSPicks
Elisa 0.1.0
It's perhaps a little surprising that there are still music playing applications being developed well into the 21st century. Ever since modest CPUs had the power to decode MP3 files in real time decades ago, this is a problem that should have been solved. And yet, like the infinite variation in music taste, no single application has yet to nail the perfect design for everyone or even for a significant majority. Amarok, the KDE music player, did get close for a while and was a popular alternative to proprietary alternatives, but its user interface became too bloated for some, leading to a fork back to an old version and the creation of the Clementine project; Amarok development subsequently slowed. All of which has left the KDE terrain, in particular, fertile for the cultivation of a new music player – which is what Elisa is, albeit at a very early stage of growth.
The best thing about Elisa, despite its nascent development state, is the user interface. It feels like a new-age KDE Plasma application, where the interface is well designed and doesn't get in the way of the core functionality. That functionality isn't reading lyrics, integrated research notes on artists from Wikipedia, or seeing a mood bar for the type of music – the functionality is the simple process of listening to music. The main view lists the music in your collection, using thumbnails of album covers if you have them. In fact, the only configuration option currently offered by Elisa is the location of your music, yet the rest of the player is surprisingly mature. In particular, the playlist pane features some excellent design and layout work and already allows you to rate your tracks for easy retrieval. If development continues at this quality and pace, we'll have a contender for the best Linux music player by the end of the year.
Project Website
https://community.kde.org/Elisa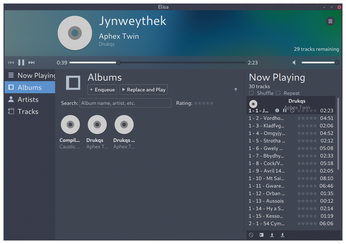 If you're looking for a KDE-friendly simple music player, the new Elisa is showing great promise.
Media player and server
Kawaii-Player 3.3.1
Unfortunately, this great little application has nothing to do with the synthesizer manufacturer that helped make Jan Hammer famous in the 1980s by producing possibly the best additive synth you could buy, certainly in hardware form. Instead, Kawaii-Player is a Linux video player with a built-in media server. It's built on top of the long standard and widely compatible mpv and MPlayer, which means the biggest problems are already solved – performance and media compatibility. These tools are used to handle playback while the application itself adds a huge number of additional features and playback control. The developer has stated that using these technologies to create a simple and lightweight audio and video player plus library was the primary motivation for creating Kawaii-Player, as they felt nothing fit the same remit – MPlayer is certainly complex and unwieldy if you're not used to its environment. This is all a little surprising when you first run Kawaii-Player or look at the features it supports, because it gets very close to being complex and unwieldy itself, mainly thanks to so many features.
The main user interface is a little like an old version of Kodi, albeit with a watercolor landscape for the background. You add files to your library and watch them, using the long control bar to manage playback. But behind this, there's a great deal of control. You can browse your collection, generate universal playlists, make bookmarks, download fan art, and even watch YouTube videos. You can endlessly customize the way subtitles appear or the video processing used for movie playback. Additionally, you can use BitTorrent to stream and play back content, serve files as a standard media server, use a web interface for remote control, and even run in a headless mode. If you're looking for a media player pitched somewhere between VLC and Kodi, this may be it.
Project Website
https://github.com/kanishka-linux/kawaii-player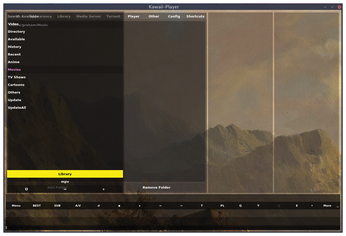 There aren't many media players that have a landscape image for a background or that have so many features crammed into an austere interface.
comments powered by

Disqus
Visit Our Shop
Direct Download
Read full article as PDF: