FOSSPicks
Puzzle adventure
System Syzygy
Unless you've played the Macintosh classic from 1987, The Fool's Errand, or a few similarly dated titles, the gameplay in System Syzygy will appear completely unique to modern gamers. Unlike many retro game genres that continue to live on, System Syzygy is a compelling combination of narrative storytelling and problem solving that doesn't really exist any more. Of course, the vast majority of games will have a story that involves clicking through conversations and scenes, This is what happens in Syzygy, but in Syzygy these narrative elements feel more like a work of fiction than part of the gameplay. The story almost plays out like a cartoon, and you're left to follow and help when necessary.
The story is classic sci-fi. It starts with your spaceship careening through space only to be stopped short by a technical malfunction, or perhaps, sabotage. Your avatar is the summoned admin on the ship, which is a sprawling web of areas and exotic passengers. You access these zones as they unlock from a side plan view of the ship, and each section will push the story forward and set a challenge. The puzzles themselves are usually logical and tile-based, much like many mini-games or old Flash puzzles, but they also fit into a much wider story arc rather than being specific to a single trigger within the game. Each puzzle is also accompanied by some character narration and some help text if you need it, so you can usually work out what needs to be done. The story, the puzzles, and the huge primary colored pixel graphics combine with the square wave sound effects to create a brilliant little game.
Project Website
https://mdsteele.games/syzygy/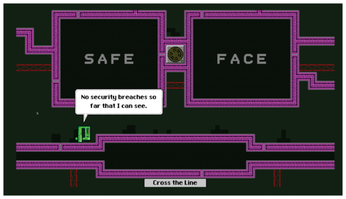 In a concession to modernity, System Syzygy automatically saves your progress so you can continue when you next play.
comments powered by

Disqus
Visit Our Shop
Direct Download
Read full article as PDF: