FOSSPicks
Simple note taking
Notorious
As demonstrated above, there are many note-taking applications – from cloud-synergized to-do lists through to Vim add-ons. This is for two reasons: They're easy to implement, and they're eminently useful. This usefulness is also directly related to how easy you find them to use, and how much they make you want to use them. Two of our favorites are console-bound VimWiki and TodoList on the Plasma desktop. Notorious, though, is another beautiful and minimalist note-taking app that also has a relatively unique feature – simple input with a keyboard shortcut for almost everything while remaining low on resource use and perfectly integrated with any Gnome desktop.
A list is created by entering a name in the search bar and pressing Return. You can also navigate between your saved notes by using the cursor up and down keys, and the Escape key switches between edit mode and note select mode much like command mode in Vim. This allows you to very quickly create a note when the application has launched or find any note you've already made. You're free to format your lists as you please, although if you stick to Markdown syntax, its keywords will be highlighted after enabling a configuration option. This is useful for highlighting subheadings, italics, and bold sections of your lists. You can also insert emoticons, and your notes are automatically saved when you quit the app. With only a handful of functions, it's easy to remember the keyboard shortcuts, which are listed by pressing CTRL+?. There are very few configuration options, but you can switch between a light and dark theme, and you can also choose where to save your notes by default, as you're not asked to manually save at any point.
Project Website
https://gitlab.gnome.org/GabMus/notorious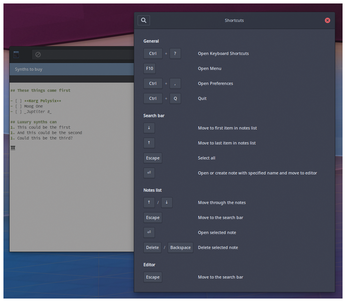 The best note-taking apps get out of your way and help you quickly jot down your thoughts.
Circuit illustrator
comments powered by

Disqus
Visit Our Shop
Direct Download
Read full article as PDF: