FOSSPicks
QElectroTech
One of our most interesting recent finds was Horizon EDA, a circuit and printed circuit board (PCB) designer with a huge component database that you could use in your own designs. It even featured a fully split 3D breakdown view of your designs and could produce final output ready for production. But these advanced features make Horizon a bit intimidating, especially when your needs are a little less ambitious. In which case, QElectroTech might fit the bill. Unlike the full-fledged feature festival of Eagle, QElectroTech is more of a planning, design, and illustration tool tailored to suit circuits of all kinds. This is fantastic if you need help adding diagrams to a paper or article. It's even better if you want those diagrams to be functional, because it can also help turn those designs into a circuit for your final project. What's more impressive is that it isn't specifically targeted at small-scale electrical circuits, but at a great swath of electrical and even mechanical projects, all from a single application.
To accomplish this flexibility, QElectroTech bundles its own large collection of what it calls elements. These elements are the graphical components you drop into your blank canvas design; they're listed in the right-hand pane of the main window. Categories for these elements include logic, hydraulic, pneumatic, energy, water, refrigeration, and solar, and there are a huge number of elements to use. Placing them into a new project works in much the same way as using a design application like Inkscape. Select your tool or component, drag it onto the canvas, and line it up with your other elements. Electrical terminals are clearly marked in red, and the grid snapping helps you keep everything on the same axis. When using the drawing functions, such as the line tool, the terminals will automatically become highlighted and easy to select so you can create circuits accurately. You can also connect terminals together by dragging from one to another. The circuit will automatically adapt to your layout to fit the connection into your design, which is a great feature for creating flow charts.
The background canvas is called the folio; opening its properties page allows you to change how elements can be arranged. It's here, for instance, that you can set the number of columns and rows for the grid, as well as their size. You can also set the angle for the text you add, as well as its font and size. All of this can be saved as a template, along with an automatically generated folio title block that can include a title, author, date, location, and page number. Another of QElectroTech's best features is the element editor. This allows you to create your own components using a new set of drawing tools, including polygons, circles, lines, rectangles, and text. You can also add the terminals. These are used to position the component in the main window, and to automatically connect your component with others in the circuit. It might not include any of the IDE-like tools you might need when testing or simulating a circuit design, but it's one of the best ways we've seen to illustrate and document plans from circuits, as well as the various mechanical projects at all kinds of scales.
Project Website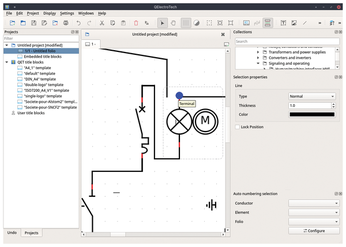 There's a lack of general diagramming and flowchart tools on Linux. QElectroTech is more than capable of performing either of these functions.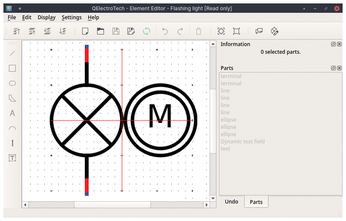 When finished, the design can be exported as an image or SVG or DXF model. You can also generate a separate parts list.
Terminal Scorched Earth
Gorched
Gorched is an interpretation of Scorched Earth, an old PC game dating from 1991. Even if you've never heard of it, it's likely you've already played one of its many clones. It's a game style most famously known simply as "tanks," or "Atomic Tanks," "Xscorch," or perhaps even as the world-conquering "Worms," although the latter is the ultimate extrapolation of the original idea. The gameplay is simple. A 2D landscape is first randomly generated, featuring large hills and low valleys, and two opposing tanks are dropped onto the land, one on the left and the other on the right. The player then typically presses space to initiate a shot. The angle of the tank's gun, and the eventual velocity of the projectile, counts up at increasing speed. You need to get the timing right and press space again to fire. You then watch as your projectile flies through the sky, hopefully hitting the rival tank close enough to make it an easy adjustment for the next shot. However, before you can try again, you need to survive a shot back from your opponent whose turn it now becomes to blast your tank off the face of the landscape.
The brilliant thing about Gorched is that it accomplishes all of this from the humble command line using almost pure ASCII text characters. The colors are bold and easy to see, and while the tanks only show the changing angles through text, launching the projectile is as fun and as addictive as in the original. What's even better is that the landscape is destructive! This means when you miss, you destroy part of the background landscape, which can even collapse along with the little ASCII trees. There's currently no AI, so you need to play both sides if you're on your own, but this means you can get some sneaky practice for when you do convince someone to play.
Project Website
https://github.com/zladovan/gorched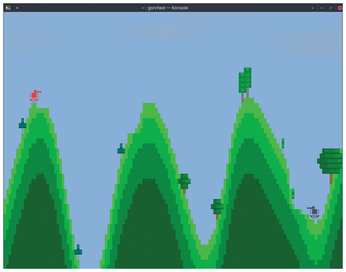 Play a two-player Scorched Earth clone in ASCII on your terminal, probably even remotely using tmux, although we didn't try this!
comments powered by

Disqus
Visit Our Shop
Direct Download
Read full article as PDF: