FOSSPicks
Platformer
PACE
PACE is a game at an early stage of development, with its initial release coming after a mere five days of development and with only 10 levels. But it's quickly becoming a mature and fun little strategy game, which now includes 35 levels, its own sandbox mode, and even a tutorial mode for beginners. The game itself features super-simple monochrome 2D graphics, with a stick person as your player avatar. Each level is a maze or cave viewed from the side, and you use WASD or the cursor keys to move your avatar around, with the Shift key used to add a little extra speed. This speed-up is limited by a percentage countdown that will only give you a boost for a short period of time before recharging. As the game's name suggests, it's this speed that is the important bit. To get to the next level, you need to get your player through the maze to the door within a certain amount of time.
Levels usually consist of multiple screens, meaning that you need to quickly get across a couple of screens to trigger a colored switch that opens a door before heading back to escape. Multiple switches, rotating walls, and floating platforms all add to the complexity, and you often need exacting platformer skills to negotiate the gaps and platforms at top speed before a door closes. The early levels are moderately challenging, but they get difficult in later stages. Much like other super-tough retro platformers, though, it's addictive because you can restart a level so quickly and replay through to where you keep getting stuck without everything becoming a little too arduous. And if it ever does become too arduous, using the built-in sandbox/level editor to create your own challenges would be a great way to contribute back to the PACE community.
Project Website
https://simonboi.tech/projects.html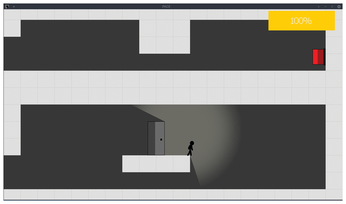 PACE is a super-quick platformer where you run against the clock to open and exit through a single door.
comments powered by

Disqus
Visit Our Shop
Direct Download
Read full article as PDF: