FOSSPicks
Telegram client fork
Kotatogram
The Telegram messaging platform is one of those projects that has benefited hugely from recent global upheaval, mostly thanks to simply not being WhatsApp. This is because it implements group chat, instant messaging, telephony, end-to-end encryption (not by default), and a smorgasbord of animated GIFs and memes in much the same way as WhatsApp, while being somewhat open source and not owned by Facebook. Signal is a better open source/security/privacy option, but Signal doesn't yet offer the same level of WhatsApp style integration for those trying to convince family and friends to try something other than a platform owned by Facebook. While Telegram's server-side protocol isn't open source, the client and its protocols are, which leads to all kinds of different interpretations. This is another good thing, because the official Telegram Desktop client also has some configuration shortcomings, and that's exactly what this fork attempts to address.
As a fork, Kotatogram behaves exactly like its upstream project. This means it authenticates in the same way and still requires a telephone number for new members. At the moment, it also behaves exactly like the original project, but there are signs of development with its own set of configuration options. You can finally use a custom font, for example, or compact chat lists. Sticker sizes can finally be changed, as can the chat bubbles. These are the kind of updates that will never make it into the official client, and the Kotatogram maintainers have been quick to respond to feature requests and keep an updated target list of many other potential quick fixes. The end result is an app that's just as easy to use as the original, with code you can check yourself for backdoors and malware, but that may allow for more dynamic options than the upstream version. All we need to make it perfect is an open version of the server software.
Project Website
https://github.com/kotatogram/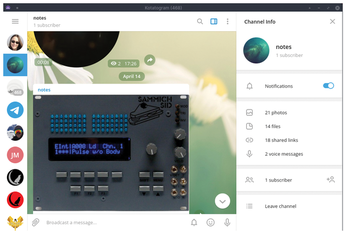 If you're looking for a version of Telegram Desktop with more configuration options, take a look at this fork.
Audio ripper
comments powered by

Disqus
Visit Our Shop
Direct Download
Read full article as PDF: