A Guide to Open Source Fonts
Font Freedom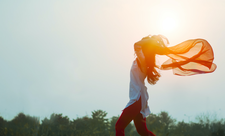 With so many open source fonts available, how do you choose the right one? We provide an overview of the most common open source fonts along with some tips on choosing the best one to meet your needs.
Two decades ago, open source fonts barely existed, and the necessary licenses simply did not exist. That changed with the introduction of the SIL Open Font License and the GPL font exception clause as font designers, like programmers before them, showed themselves perfectly willing to release their work under free licenses. Today, thousands of open source fonts exist, many of them rivaling the best proprietary fonts. The best-known open source fonts are a standard part of many distributions' default installations. But how to choose between so many options? Here is a summary of some of the most widely available free fonts, and how to choose between them.
When some users think of fonts, they usually think of novelty fonts – flashy, exotic fonts used for short bursts of text. However, whether you are choosing fonts for a document or a desktop, most of the time you will want something more sedate for everyday fonts. Typically, you will want two or three fonts. Serif fonts have letters with hooks at the end of their stroke and are the first choice in North America for long bodies of text. By contrast, sans serif fonts lack the hooks and are mostly used for headings and desktops (although they are also used for long bodies of text in Europe) or to create a modern aesthetic. If a document contains code, you will also want a monospace font, whose letters are all the same width. Whether you use two or three fonts, you can either mix and match one of each type or choose a font family that offers all three. All three usually include a roman or normal weight, as well as bold and italic or oblique weights. All your fonts may be chosen for a variety of reasons, the most popular being aesthetics, purpose, or international support.
Both Google Fonts and the Open Font Library offer thousands of fonts for downloading, although their offerings often overlap. Both offer samples of each font, and Google Fonts also lets you type a sample. Both, too, can quickly become black holes that absorb all your time, so you may want to type a description of the appearance you prefer in a font and search for it rather than paging through either site. Alternatively, the League of Movable Type offers a small but select group of outstanding workday fonts, including three font families originally designed by Frederick Goudy, the famous American font designer (Figure 1). In addition, the package repositories of many distributions include a selection of fonts. Debian, for example, offers over eighty.

Figure 1: The League of Movable Type offers a select number of fonts, among them Sorts Mill Goudy, Goudy Bookletter 1911, and Linden Hill by Frederick Goudy. The difference between the three is mostly in the spacing between letters.
Here are some of the most widely distributed open source fonts, along with why you might – or might not – want to use them.
Gentium
One of the first open source fonts, Gentium was designed by Victor Gaultney, one of the writers of the Open Font License. It supports Latin, Greek, Cyrillic, and the International Phonetic Alphabet characters. It also offers variants like Gentium Alt for diacritical marks and Gentium Book Basic. Gentium is often described as being suggestive of calligraphy, which makes it suitable for fiction and poetry, but not so much for business or academic work.

Figure 2: Gentium is one of the first quality open source fonts, prized for its calligraphy-inspired appearance.
Fira
Fira is a sans serif font originally commissioned for use in Firefox. It is available in four weights including Condensed and Mono, as well as Code (a tweaked version of code), and FiraGO (a multilingual version). With a full set of ligatures, small caps, and a clean, modern look, Fira is immensely popular among businesses for corporate branding (Figure 3).

Figure 3: Designed for Firefox, Fira has become popular, perhaps because of its familiarity.
Arkandis Digital Foundry
Years before the current explosion of open source fonts, Arkandis Digital Foundry's work found its way into many distributions. As the names imply, many of Arkandis Digital Foundry's fonts were near imitations of popular proprietary fonts. For example, Baskervald ADF Std was modeled after Baskerville, Gillius after Gill Sans, and Universalis ADF Std after Univers. The fonts themselves often differed from their inspiration in letter spacing and minor changes in some characters, presumably to avoid copyright violations. Unfortunately, these changes often have mediocre results. While considerably better than nothing, Arkandis fonts should be avoided when possible (Figure 4).

Figure 4: The Arkandis Digital Foundry includes imitations of popular proprietary fonts. Shown here are Arkandis's Gillius (top) and the original Gill Sans (bottom).
comments powered by

Disqus
---
Support Our Work
Linux Magazine content is made possible with support from readers like you. Please consider contributing when you've found an article to be beneficial.
---