Darktable 1.2 RAW converter
Geotagging with Maps
A major innovation in Darktable 1.2 is the geotagging functionality. The map link at the top right takes you to the appropriate window (Figure 9), where you can drag images from the scroll bar or press Ctrl+F and then position them on the map.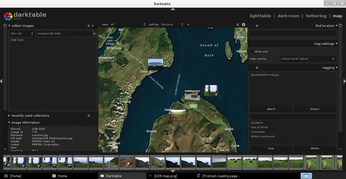 Figure 9: In map mode, you can set the positions manually or input files with GPS exchange format (GPX) data. In the same window, you have another way to tag photos with keywords (bottom right).
The available map sources include several variants of OpenStreetMap, Google's services, and some other providers. As usual Darktable adds the geotagging information to the sidecar files.
Conclusions
The previous versions of Darktable already gave users a powerful tool. The current 1.2 release adds many new features and modes, or significantly improves existing ones, thus making the workflow even more effective. The fixed workflow and advanced style features make the program perfectly suited for editing both individual images and large sets of images.
The tools, however, do have a learning curve, but it is time well spent: Once you understand how to use the functions that are important for your work, you will probably go back to Darktable time after time – if only to save time. The new options offered by the tools, conditional blending, and masks enhance the software significantly. Darktable 1.2 can thus compete with any commercial RAW converter and perform well in a comparison.
Beside RAW formats Darktable also imports JPEG and TIFF images. This opens up additional applications: For example, you can load the images you need for your next presentation, sharpen them up, and save them again with a frame. If the images use an input format that Darktable does not support, you can convert them first with Convert or Converseen [4].
comments powered by

Disqus