Audex, the lean audio CD ripper
Freshly Ripped
Once Audex has the desired profiles and codecs, you can start ripping the audio CD. Left to its own devices, Audex selects all tracks on a CD for ripping. If you want the program to leave out individual tracks, then remove the corresponding check mark in the Rip column. To start ripping the CD, click the Rip button top right in the program window. Audex then encodes the selected tracks in the target format, which can take some time depending on the number of tracks.
When Audex is done, you will find a subfolder with the appropriate artist name and album title in the destination folder you selected previously in the settings – if it is missing, Audex will automatically create the folder. The software now stores the tracks, together with a JPG file of the cover and an M3U file with the playlist, as well as other metadata that all popular audio players parse during playback.
Fault Tolerant
Sometimes the Freedb.org databases provide erroneous information on albums, tracks, and artists, and occasionally the album in question is simply missing. In such cases, Audex offers you the option of correcting the imported data or even specifying data records for individual albums. Classic albums are not normally a problem, but for samplers with songs from various artists, Freedb often delivers incorrect data.
To complete the data records for albums or CD collections, click bottom left in the main Audex window on the Edit Data link. In a separate dialog, you can then edit all the relevant data – thus keeping your music collection up to date at all times (Figure 3).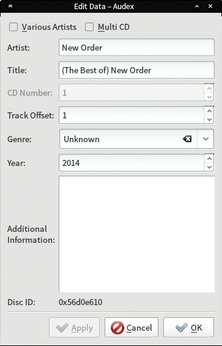 Figure 3: You can enter data for an album in a clear-cut dialog.
Conclusions
Audex lets you put your audio CD collection on your hard disk in almost no time. The software primarily impresses with its ease of use and the straightforward approach. Thanks to its multiple-format support and a link to the Freedb.org database, no information is lost. Because Audex feels at home on all major desktop environments, the software should be available to any music lover.
comments powered by

Disqus