Netflix on Linux without Silverlight
Beyond the Silver Screen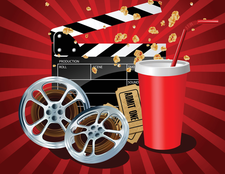 The online video store Netflix delivers video on demand to many countries. Although the service offers Linux-friendly HTML5 streams, you have to coax Netflix into actually serving them up.
With more than 50 million paying customers worldwide (July 2014) Netflix has positioned itself as a market leader among video-on-demand (VoD) providers and now has so much market power that it produces its own series and films. In contrast to its competitors, Netflix offers a Linux-friendly HTML5 player for its streams, but the VoD provider has installed many stumbling blocks for users with Linux systems. In this article, I show how to extract HTML5 streams from Netflix.
Online Viewers
Although traditional, linear TV viewing still holds sway in the US, VoD is gaining ground. By 2014Q2, US TV viewing dropped to fewer than five hours per day [1]. Viewership increased with age; viewers aged 65+ years old watched 6.8hr/wk, whereas those aged 12-24 years watched only 2.7hr/wk. Meanwhile, online viewing has increased [2], with 40% of viewers among the Gen-Xers (31-50/54 years), 30% among the Boomers (55+ years) and 12%-18% among the Millennials (18-34 years). Worldwide, the Millennials top VoD and time-shifted TV consumption (75%), followed by the Gen-Xers (54%) and the Boomers (40%) [3].
Netflix
At the time of printing, Netflix was available in 77 countries [4]. Like its competitors, Netflix offers a one-month trial period [5], and during this time, you can put the service through its paces. The offerings cost $7.99 (£5.99/EUR6.99) per month for one standard-definition stream, $8.99 (£6.99/EUR8.99) per month for two high-definition streams, and $11.99 (£8.99/EUR11.99) a month for four devices, so families can use the service without wrangling.
With a modern Smart TV you can run Netflix directly as a TV app. If you have an older TV, you can equip it with a Chromecast dongle [6] or Roku Streaming Stick [7]. A smartphone or tablet equipped with the matching Netflix app [8] also smartens up your TV.
Silverlight
Now that you're equipped, how do you play one of the movies on a Linux PC? At first glance, Netflix disappoints: If you click Play in Firefox, Chromium, or Opera for your choice of Netflix movie, the video service instead serves up a page with the system requirements (Figure 1) – don't bother looking for Linux support!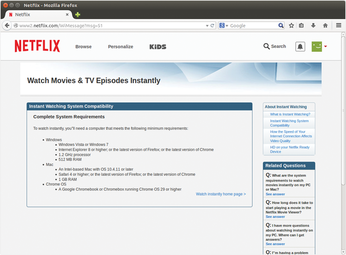 Figure 1: Faced with a Linux browser, Netflix only reports that the computer does not meet the system requirements.
If you spoof a Firefox browser on Windows with the User Agent Switcher, you have taken one step further toward watching Netflix; however, Netflix now asks you to install the Silverlight plugin (Figure 2), although the HTML5 player is enabled in the Netflix settings out of the box. Under Linux you can meet this request with Firefox and Pipelight [9], but you can also tap into Netflix without Pipelight.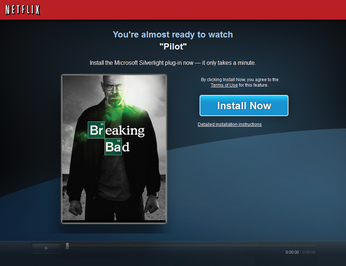 Figure 2: If you spoof a Windows Firefox browser with the User Agent Switcher, Netflix asks you for Silverlight.
comments powered by

Disqus